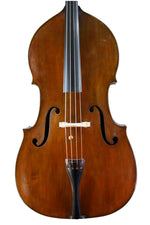 Instrument Description
This is a Testore copy instrument. It is of violin outline with a flat back that slopes gently in towards the neck. The two-piece back is made from well-figured maple and the ribs are fitted with outside linings. Both ribs and scroll are well matched in terms of flame to that of the back. The table is made from very fine-grained spruce - of almost violin making quality. The purfilling bands to both front and back are of a very narrow gauge and it is probable that Lant used the same gauge for violin, cello and bass making. The edges of the scroll are highlighted by means of a painted black line. The pegbox is fitted with quality English cogs and brass half-plates.
Do you have any info on Lant?
The Universal Dictionary of Violin & Bow Makers by William Henley (Amati Publishing Ltd 1973) gives two lines on Lant as follows 'Born in London in 1901. Pupil of Bidulph. Resident at Sevenoaks, Kent, 1950. Violins, violas, cellos and double basses. Also Bows'.
The Violin Dictionary of British Violin and Bow Makers by Dennis G. Plowright (Pub 1994 - ISBN No. 0 9523081 0 X) expands by saying that Lant was a prolific workman who generally used nicely figured woods to make instruments with a flattish arching and often with the chamfers of the scroll blackened. Plowright comments that his purfilling was sometimes a little shaky, his varnish a little thin in texture and that his work in general was not always as careful as it could have been.
Do you know how many basses Lant made?
During the 50-60 Ernest Francis Lant started to specialise in the production of five-string instruments based on a smallish Testore model. Although we don't know the exact figure of basses that Lant made his instruments quickly found favour with orchestral players in London and the provinces and a substantial number were made.
What does the internal label say?
The origional printed label is positioned on the central brace - bass side and reads "Ernest Francis Lant, Sevenoks, Kent, No 322 Anno 1969".
What can we learn from this label?
The label is significant in establishing two facts regarding Lant and his productivity.
We can establish that Lant - at the age of 68 was still making very decent instruments.
We can establish that Lant had made 322 instruments by the year 1969.
Lant is most recognised for his double basses and so if one cared to estimate that say 30% of Lant's production were basses - that would give a figure of 97 - which is a substantial number of instruments.
Are there any other labels or inscriptions?
Yes - internally there are three inscriptions written by Lant in seriously thick black ink that read as follows:
On top block - signed in absolutely huge capital letters; E.F. Lant, Sevenoaks 1969.
On bass side back above central brace; Made by E.F. Lant for David Jones.
In middle of back central brace; Produced from a Testore in possession of John Bass.
In addition there are two repairers inscriptions that read as follows;
Below central brace - bass side; Repaired by Michael J. Hart, London, March 1973.
Lower rib - treble side, close to corner block; Repaired by Luin Sitkey 1989, Felge, Stockholm.
Wow - there are a lot of inscriptions. Do you know anything about David Jones and John Bass?
Both gentlemen were London double bass players. David Jones was a rank and file member of The Philharmonia Orchestra for many years and John Bass was the sub-principal double bass player in The Royal Philharmonic Orchestra for many years.
Has The Contrabass Shoppe done anything to the instrument?
Yes - quite a bit really. The instrument was originally built as a five string - but when we purchased it - it didn't really respond that well. Not surprising - it's only a smallish instrument. Now after replacing the bass bar with something much lighter, doing some regraduation work to an over thick table and replacing the neck - it has transformed a damp squid of a sound into an absolute monster-sound. You keep telling us how good all of our instruments sound - but really - you must come and try this one out for yourself - for it is nothing short of amazing. The loud, focused and clear sound with its ultra-quick response to bowing is almost certainly due to the flattish table arching as much as the correctional work our restorer has done.
Final Summary;
Lant is a maker well recognised in the annals of more recent English bass making history. Although it is a shame that many of Lant's instruments never really sounded that great - even after 50 years of hard orchestral playing - a little judicial tweaking here and there can elevate them into really first-class "players" instruments.
We particularly like this small Testore model which is an absolute delight to play and hear.