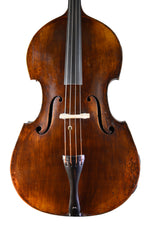 William Tarr or Ludwig Neuner?
Well you have to admit that this instrument does look every bit like the basses of William Tarr. It has the same out-line, similar arching, a flat back, nicely carved scroll and that same muddy brown spirit varnish that one associates with Tarr - and then - what about those cogs and worms? - they definitely originate in Northern England. Besides - isn't Tarr rumoured to have imported instruments in the white from Germany and then finished them off here in England? Let's investigate.
So why Neuner rather than Tarr?
There are a few things that do point to the work being Neuner rather than Tarr - but it is a very close run thing indeed. The main points are:

The back of this instrument is flat with a gentle incline towards the back button. On a bass by Tarr we'd expect to see a clearly defined angle break on the upper back.

The back of this instrument has a strip of ebony running the length of it's centre joint. On a Tarr bass we wouldn't expect to see this feature.

The linings of this instrument are let into the corner blocks. On a Tarr bass we would expect to see them butt-up to the corner blocks.

On this instrument the neck is dovetailed into the block giving the illusion that the neck is sitting on top of the block. On a Tarr bass we'd expect to see the entire base of the neck-block slotted into the top-block.
So who was Ludwig Neuner?
He was a well-trained and skilful craftsman who had a great sense of business acumen. The Encyclopaedia of Violin-makers by Karl Jalovec (pub. Paul Hamlyn 1968) aptly summarises as follows: 'Born in Mittenwald 1840, d.22-06-1897. One of the owners of the firm Neuner & Hornsteiner, and at the same time owner of the firm L.Neuner in Berlin. He learned violin making in Munich, Berlin and Paris (where he worked for seven years with J.B.Vuillaume, ….) As a maker he was able to achieve good work, but he soon found he could multiply his profit by dealing with the trade…. He opened a shop in Berlin in 1867.'
Of great interest to us in our research - the Universal Dictionary of Violin & Bow Makers by William Henley (Amati Publishing Ltd) adds 'Worked a few months in London'. So an association with William Tarr (1808-1891) at this time was evidently quite possible. Well, well!
What about the bass? Does it sound any good? Will I want to buy it?
After all that theoretical stuff you'll be well pleased to know that the instrument does sound very, very good indeed. In addition - if your budget doesn't quite stretch up to current Tarr prices then this surely is the very next best thing. The instrument's near-English good looks and sound will fit in great in the section and in terms of playability - well - you'll be so pleased.