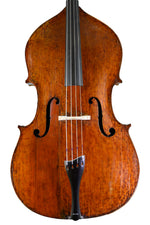 How do you know that this double bass was made by Anton Lutz?
The instrument bears its original label on the inside bass-side back. The large printed label reads 'Anton Lutz, Schönbach in Böhmen, Post Falkenane. 1878'. The final two figures of the year being hand written.
Can you describe the instrument to me please?
This is a violin shaped instrument with a swell two-piece back. The ribs show a strong wide flame that descends slightly from the front. The back shows a similar flame although less well pronounced. The scroll is of plane maple. The table is made from spruce of a remarkably strong, ultra-wide grain that narrows to a wide grain at the centre. The peg-box is fitted with four separate machines. The instrument is covered in a gorgeous red-brown spirit varnish over a yellow ground.
Would you describe it as an instrument of quality?
Yes indeed.
What else do you like about the instrument?
It addition to the splendid choice of materials and excellent workmanship we particularly like the fact that the instrument bears the makers original label and has all the original varnish. Also to its credit is the fact that it possesses its original scroll and original machine heads and aside from one replaced section of wood on the lower bass side table it is in an overall amazing condition.
I get the impression that you really like this instrument. Is that correct?
Yes - from an aficionado's perspective it is a most rewarding and refreshing instrument to be able to examine.
Why would that be?
We see relatively very few master craftsmen made double basses from this region and this period in violin making history.
Can you expand on that please?
A vast number of the incalculable number of instruments produced along the Western most tip of Bohemia were made by a whole family either in a small workshop or within their own home on a divisional type basis. The social conditions were often poor and although the demand for these instruments was high the resulting quality was very low.
So it would seem that the Lutz is quite a special instrument. From a pure player's perspective what will I like about the Lutz?
From a pure player's perspective it is a very comfortable instrument to play and once again from a pure player's perspective the sound is truly awesome.
In what way is the sound "truly awesome"?
Voluminous sound. Deep, dark and very tonally rich also sum it up very nicely.
So in other words - perfect for the symphony or opera orchestra?
Absolutely.
Do you have any history on the instrument?
Yes and it is a truly fascinating one.
How so?
According to a close friend of the former owner, the former owner is now in his 90's and was a former Major in the orchestra of the Prague State Opera. At the time all the players in the P.S.O had a Russian Civil Service rank and were identified by a non-combative number. Due to the owner's age and his reluctance to reveal his true identity for fear of reprisal from the Russia government - it was incredibly difficult to get any information out of him at all. Having said that - he did reminisce much about playing under the legendry Herbert von Karajan (b-1908, d-1989), recording for Supraphon under Karel Ancerel (b-1908, d-1973) and playing a lot of the glorious music written by his countrymen - composers such as Janacek, Smetana, Dvoŕák, Martinú and Zalenka.
In order to make writing this review easier do you want to allocate the former owner a name?
Yes that's a good idea. Lets simply call him "George". It is in fact one of the many names and aliases that he used throughout his life but it still respects his wish to remain anonymous.
Do you know why George is reluctant to talk about his past?
George is of Bohemian decent. During the uprising of 1968 known as the "Prague Spring" George publicly supported the non-violent reforms and loosening of the Soviet restrictions that were in place on the freedom of speech, media, music, literature and travel. This new liberalizing model of socialism had been facilitated by Alexander Dubcek - the newly appointed leader of the Czech Communist Party - however Leonid Brezhnev the Soviet leader quickly introduced a new doctrine to prevent any Eastern European country rejecting Communism in this way. After only a few months, the uprising was suppressed by an invasion of some 500,000 Warsaw Pact troops in which many Czechs and Slovaks were killed and wounded. Fearing for his own safety George fled with his Lutz double bass to England where he was able to gain a position in the Birmingham Symphony Orchestra which is where he stayed for approximately four years. In about 1972 George moved down to the Bournemouth Symphony Orchestra where he remained for the next 15 years.
Did George say where he bought the Lutz?
Yes - he bought it in Brno which is the second largest city in the Czech Republic by both population and area.
When George came over to England did he bring anything else with him that ties in with this story?
At the same time that we purchased the Lutz from George we managed to acquire a very fine H.R. Pfretchner bow from him.
Was this George's favourite bow?
Yes he used it in the Prague State Opera and throughout his life.
How does it link in with the story?
The bow bears the brand MAJ.N.D-32 which denotes George's rank, his initials and as mentioned previously his non-combative number.
Super story. Super bit of history. Super bit of provenance.
Yes agreed.
Do you have any history on Anton Lutz?
The Brompton's Book of Violin and Bow Makers by John Dilworth published in 2012 by Usk Publishing (ISBN 978-0-9573499-0-2) records that Anton (1) Lutz was born in Luby (Schönbach) in 1814 and died in 1896. The entry is only 1.25 lines long but importantly provides a positive view about his work and as follows 'Professional work on violins, cellos and double basses.'
Did you find anything else out about Anton Lutz?
The two volume Encyclopaedia of Violin Makers by Karel Jalovec which was first published in GB by Paul Hamlyn Ltd in 1976 records the following; 'Lutz Anton (1): Vienna. b. 31. 10. 1814, d. 14. 1. 1896. Son of Ignaz L. (1). Senior partner in the firm A. Lutz & Co. in Vienna, which sold the better sorts of instruments from Schönbach and Graslitz. The best specimens (his own instruments) were varnished according to the model copied. He was the teacher of his two sons, Johann (11) and Vincenz.
I note that there is a number 1 after Anton's Christian name. Is it possible that an Anton 11 made this instrument?
Yes the dates do suggest that this is possible. The Jalovek provides the following entry; 'Lutz Anton (11); Schönbach. b. 1850 in Schönbach, d. c. 1910. Son and pupil of Johann L. (1). A very prolific v.m., who unfortunately became mentally ill.'
What does Dilworth record about Anton (11) Lutz?
Dilworth only records his date and place of death as follows; 'd. 1938 Luby'.
So some uncertainty as to which Anton made the instrument. Would you say that there is still room for further research here?
There is always room for further research.
If I was interested in doing some research into the family do you know how many makers there are recorded with the same surname?
The Violin Makers of Bohemia by Karel Jalovec (Anglo-Italian Publication Ltd. No date of publishing given.) lists eighteen makers with the name Lutz and a further two with a slightly different spelling.
Can you provide a summary?
For anybody in the market for a good quality instrument - this master craftsman made Bohemian instrument by Anton Lutz really does offer a great many qualities. We really do like the fact that the instrument has its original label, has been well made and has been made using choice materials. We are also delighted to see that the instrument still retains its original varnish and that the quality of the varnish is on an extremely high level. Moving on to the question of the sound we can assure you that the instrument vibrates well and that it possesses power coupled with great tonal quality. If you should need any more reason to desire this instrument then it comes complete with an established provenance of playing both the opera and orchestral repertoire in no less than three top class European orchestras.
This review is very tempting indeed. I must call into The Contrabass Shoppe and try the instrument out. How about a final clincher?
This is indeed a splendid instrument. In terms of value - if you wanted to buy the equivalent named English instrument you would have to fork out at least double the cost of what we are asking here.