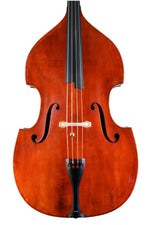 I need an instrument that is easy to get around and over – has a big, clear sound and is preferably Italian. What can you recommend?
That - I have to say is a pretty big request. Fortunately this gorgeous instrument by Luigi Ferrarotti ticks all the right boxes. It has a length of back measurement of only 107.5cm, a string length of only 103.6cm and possesses a volume and quality of sound that is sure to out perform and out class many instrument of much larger dimensions and costing much, much more.
The instrument looks in great condition.
Yes - the overall condition is pretty exceptional.
On the front I can see a long crack running down from the lower treble side F, one of about 5.5cm running down from the bottom of the bass side F and another two small ones that run up from the lower bass side edge. How can you say that the instrument is in exceptional condition?
What appear to be cracks on the front are in actual fact "fake" or "simulated" cracks. It is most probable that these "shallow score lines" were deliberately put on the instrument by the maker in an attempt to make it look older. It is quite possible that this somewhat crude form of "artificial aging" was done at the request of the original buyer.
Did you have to stud the artificial cracks on the inside?
No it wasn't necessary. As previously mentioned - they really are only "surface scratches".
Have you updated the instrument in any way?
To make your playing experience as pleasurable as possible we have fitted a new neck and the peg box has been adorned with a stunning set of "Italianate" style cogs that have been imported all the way from the USA.
What about on the inside?
A few tweaks and improvements have been performed.
What was the most important "tweak" that you did?
We fitted a new bass bar of the correct length and depth. It allows the table to flex and vibrate properly which in turn helps the instrument produce the wonderful sound that it does.
Good, good. Sounds all good to me. Can you tell me anything about Luigi Ferrarotti?
A company called "Ferrarotti Chitarre" is still in existence today (April 2011) and is run by direct decedents of Luigi Ferrarotti. It produces classical guitars, semi-acoustic guitars, mandolin, mandola and a laminated "studio" double bass. According to the web site Luigi Ferrarotti was born in Robella di Trino in 1878. Robella di Trino is a province of Vercelli in Northern Italy - some 30km to the east of Turin.
OK – go on.
Luigi started his working life as a farmer. His enthusiasm for music led him to play in the town band. At the beginning of the year 1900 he moved with his wife and three sons to Turin where he combined carpentry with teaching music. He began to make guitars and mandolins and in 1911 entered some into the International Turin Exhibition. An award at the Exhibition gave him incentive to set up a workshop in Turin and become a full time string instrument maker.
How did the business develop?
With the assistance of his son Dionigi the business grew and in 1954 they were forced to move to bigger premises. During the years 1965 to 1980 the business continued to grow and prosper. Today (April 2011) - due to the pressure of instruments coming from the Far East - the Ferrarotti company is the only firm that remains in Italy that makes classical guitars.
Where does the Company operate?
It still (April 2011) operates under the direction of the sons Dionigi and Roberto from the same premises in via Thures 10, 10142 Turin. The firm also specializes in the repair and restoration of all stringed instruments.
Do you have any more info on Luigi Ferrarotti?
The Dictionary of Twentieth Century Italian Violin Makers by Marlin Brinser (Published by Marlin Brinser ISBN 0-9602298-1-7, second printing 1982) rates Luigi Ferrarotti as a one star maker (good) and writes "Professional Maker. Member ANLAI - 1966 (Ass'n National Liuteria Artistica Italiana)".
Feedback from Luigi Ferrarotti dated 01/03/2012.
"Hi. I am Luigi Ferrarotti. In 1953 I was only 17 but with my father I have made the contrabass that you show on your website. I would like to know if the paint is original or not. I really like the photos - they remind me of my youth. With my son Roberto we make handcrafted classical guitars."
What fantastic feedback. Did you get back in touch with Mr Ferrarotti?
Yes. The dates given for Luigi on their website and those just provided by Mr Ferrarotti somehow didn't quite match up.
What did you write?
On 02/03/2012 Shoppe director Tony Houska wrote the following;
"Thank you for your interesting mail. I am a little confused by what you say because on this page on your web site http://www.ferrarottichitarre.it/storia.asp it states that you were born in Robella di Trino in the year 1878. If you were 17 in 1953 that would make your year of birth 1936 and your current age 76. Did you have the same Christian name as your father?

Re Paint. We call it varnish; When I bought the instrument it had been covered with something much darker. The original varnish was still intact underneath the darker layer. The two varnishes had reacted badly with each other and had turned all sticky. It took nearly three weeks to take this top layer off using Tripoli powder.
On the inside back there was a raised patch on which the soundpost sat. Presumably guitar making technique or because it saved time by not having to fully graduate the back. My restorer took it out and inlaid a new patch that looks more conventional. At the same time we also replaced the bass bar and put in a new neck.
This is the second of your instruments that I have had over the years. This one - I bought directly from Italy."
Did Mr Ferrarotti respond to your mail?
Mr Ferrarotti replied the same day as follows;
"Luigi that was born in Robella di Trino (VC) was my grandfather. My father was Dionigi. My name is Luigi like my grandfather (I was born in Torino) and my son is Roberto. 100 years of tradition!!
Thank you for the information and sorry for my English (my son helped me to write) - Luigi Ferrarotti."
Mr Ferrarotti has certainly helped place this gorgeous double bass into its true historical context.
Yes indeed. It's a big, big thank you to Mr Ferrarotti.
What aspect of the making do you like most of all on this instrument?
There are lots of things to like about this instrument. The simple model, unfussy lines and subtle choice of timber are most refreshing. My absolute favourite aspect of the instrument however is the scroll. It has the most beautiful shape and proportions and a boldness and forward poise that shout out that the maker knew exactly what he was doing and knew exactly where he came from. Splendid stuff indeed.
Is that a makers brand just below the back button?
Yes. It is always nice to see a makers brand on an instrument. The oval brand reads in capitals "FERRAROTTI TORINO".
Is there a makers label too?
Yes - the original label in hand written black ink reads Ferrarotti Luigi fece in Torino l'anno 1953.
Have you ever had a bass by Ferrarotti before?
Yes - we sold a near identical one in September 2004 to a young professional player.
Do you think that values have risen since 2004?
Yes. In terms of a pure financial investment we would have to say that the return has been good and for the future remains promising. Obviously for most - this isn't the primary reason for purchasing an instrument. However it is still reassuring to know.
How about a summary?
This really is the perfect instrument for somebody who is of smaller stature or simply has small hands. The instrument sits very comfortably against ones body and the feel and position of the neck is simply delightful. If you want to know about the sound this is best described as positive, clear, projecting, warm and as effortless to produce as any contrabass instrument can be.
How about a final, final summary?
A small Italian instrument by a well recognised maker, an impressive sound and just so, so easy to play. This really has to be a dream come true.