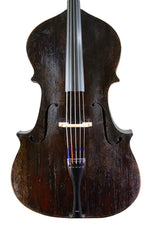 Wow - what an awesome looking double bass.
Yes agreed. In terms of size this is definitely what one would call a true 5/4 instrument. In terms of the model one just knows that this is something very special and in terms of the instrument's sound – we can assure you that this too is in a class of its own.
Really - I have never ever seen anything quite like this instrument. Can you point out some of its more intriguing features please?
Yes. The back, ribs and scroll are made from walnut and as you can see it features long graceful sound-holes, long pointed corners, long C-bouts and a long highly distinctive peg box. In the pioneering reference book by Raymond Elgar - Looking at the Double Bass that was first published by the author in 1967 - a very, very similar instrument can be seen pictured on page 71 where it is identified as a Gasparo da Salo of Brecia.
Yes I have the Elgar book - the two instruments do look almost identical. Like many of the instruments in the book I could easily imagine this unique instrument being one of the star displays in any musical instrument museum.
Yes agreed.
Are there any more interesting features?
There are lots of very interesting features about this instrument - however of particular note is the fact that the back of the scroll and pegbox are completely flat.
Isn't that a Brecian feature?
Yes - the designs and characteristics of Gasparo da Salò (b-1540, d-1609) and his apprentice Giovanni Pablo Maggini (b-1580, d-1630/31) do seem to have been an inspiration for this feature.
Are there any other things that you find particularly interesting about the instrument?
Yes - the front is made from several pieces of timber.
Anything else of note?
The front and back plates are not purfled. Raised edge-work on the front plate does however give the illusion that there is a scratched purfling line.
This sure is an interesting instrument. What else is really noteworthy?
At purchase the instrument had what appeared to be two endpin holes. The second hole originally being only 2.5cm in diameter and positioned approximately 5.0cm closer to the front plate.
Why would the instrument have a second endpin hole?
The hole was for the tail wire "stop" or "endbutton". On early instruments such as this - the tail wire or tail gut as it would have been then - was secured by means of a small round hardwood stop as opposed to being secured directly on to the endpin unit as we do today.
What was the reason for this?
The feature has its origins in viol construction. When viols were held - as they were - either at the shoulder, between the legs or supported on a cushion - a tailwire stop was all that was necessary. When instruments started to become larger in size and were required to rest directly on the floor - a separate fixed wooden peg was introduced and used in conjunction with the tail-gut stop or endbutton.
I presume that when you restored the instrument you bushed the endbutton hole?
The original bottom block had a crack down its full length which made replacement obligatory. This in turn meant that it was only necessary to bush the endstop hole in the actual rib.
Does the instrument bear any labels?
Unfortunately there are no maker's labels or inscriptions. The central back brace does however bear the printed repair label of an Alfred Meyer which is dated 1942.
What does the label say?
Reparieri 
ALFED MEYER
Markneukirchen J/Sa. 
Anno 1942.
What repairs do you think that Meyer did to the double bass?
It is probable that the previous five string neck had been put in by Meyer. At the same time it is probable that he rebushed the peg-box and fitted the existing machine heads which we recognise as being typical of German manufacture from that period.
Was the Meyer neck recessed into the block in the normal way?
No - the neck sat on the top of the block and was held in place by a dovetail joint in the block.
What does that suggest?
It suggests that Meyer simply followed what the maker had originally done.
What do you think about the outside linings?
We predominantly associate the use of outside lining with instruments made in Germany - so the feature here does suggest that these are probably a later addition. This would again tie in the rational of Meyer.
Can you tell me briefly about Alfred Meyer?
The encyclopaedia entitled German & Austrian Violin Makers by Karl Jalovec which was first published in GB by Paul Hamlyn Ltd in 1976 records two makers by this name that fit the date and location as printed on the label and as follows; 
'Alfred Gustav Meyer; Markneukirchen. b. 1.1.1872 in Wernitzgrün, d. 12.1.1947 in Markneukirchen. Established himself independently in 1904. A highly esteemed maker of cellos and doublebasses.'
'Alfred Kurt Meyer; Markneukirchen. b. 13.9.1904 in Markneukirchen. Son and pupil of Alfred Gustav M. He worked with his father and after his death continued in the workshop, making fine cellos and doublebasses. His instruments have both a printed label and a brand.'
In the Jalovec is there a facsimile label?
Yes there is. Although both father and son could have used exactly the same label the facsimile label is positioned below the entry for Alfred Kurt Meyer.
Does the facsimile label look the same as the one inside the att Nadotti?
Yes - it is identical all apart from the last two digits of the year.
What info do you have on Joseph Nadotti?
According to The Brompton's Book of Violin and Bow Makers by John Dilworth that was published by Usk Publishing in 2012 (ISBN 978-0-9573499-0-2) - Joseph Nadotti was born in 1723 and died in 1806. The brief entry suggests that he gained experience with G.B. Guadagnini (b-1711, d-1786) and that his work shows a stylistic connection. In terms of materials the entry states that in general he used plain materials and that the varnish was golden-yellow or red-brown in colour.
What do other reference works say?
The Encyclopaedia of Violin Makers by Karl Jalovec (first pub in GB by Paul Hamlyn in 1968) adds that his sound holes are narrow and rather pointed and that the tone is usually remarkable.
Does the "stylistic connection" with G.B. Guadagnini connect in any way with this double bass?
With regard to the model and general form of the instrument the stylistic connection is certainly there in spirit if not quite in execution. With regard to the use of plain materials and the red-brown varnish - there are indeed positive connections. As for "the tone is usually remarkable" analogy then this really is 100% consistent with this double bass - for remarkable is absolutely what it is.
What restoration work have you done on the instrument?
The instrument has almost been rebuilt. Briefly the work included fit new bottom block, fit new neck, fit new bass bar, half edge the front lower corners and lower bouts, wash out all the cracks and restud, fit new linings, reduce size of top block, fit new lower back brace, add chamfers to central and upper back brace, repair back centre joint and stud, clean and touch in varnish, fit new fingerboard, bridge and soundpost etc.
That does sound like a rebuild to me?
Indeed.
Tell me more about the sound?
Every bow stroke produces an über rich and full-bodied sound that is similar in enjoyment to eating pure honey or drinking a shot or two of 20 year old malt whisky.
I can just imagine. How about a final summary?
The only other place that you might be lucky enough to see another instrument like this is either in Raymond Elgar's pioneering book Looking at the Double Bass or in the museum in which he took the photo. If you are in the market for a top quality 5-stringer - come along to The Contrabass Shoppe and besides being able to feast your eyes on the instrument's awesome specifications you'll be able to play and hear it too. You will be ever so pleased that you did.