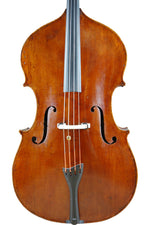 Tell me briefly about the double basses made by Hawkes & Son.
The instruments manufactured by Hawkes & Son during the latter quarter of the nineteenth century and the first half of the twentieth century were supplied to private musicians, orchestras and to the many military bands that existed especially in England. There were three models of instruments - namely the Professor which was based on the instruments of William Baker and the Concert and Panormo models - which were described in advertisements by Hawkes & Son themselves as "Copies of the celebrated Panormo Bass used in the Private Band of Her late Majesty the Queen."
What are the main characteristics of the Hawkes & Son double basses?
All the models are characterized by their violin outline, dropped shoulders, deep ribs and impressive tonal qualities. Frequently destined for tours of duty in a variety of climates from extreme cold to tropical - the instruments were constructed to exacting standards and from choice materials.
What are the main differences between the models?
The Professor was a flat back with an upper angle break, outside linings to protect the edgework and corners and four separate tuning machines. The Concert was the middle grade and although it utilized the same separate machines as the Professor model it differed by having a full swell back, a superior choice of timber and a superior finish.
What about the Panormo model?
The third and top grade was that of the Panormo model. This model was exclusively manufactured in England - reputedly by Messrs Hawkes principal repairer a Mr Robert Green - and was made from the finest of materials and to the highest standard and finish. It was always made with a full swell back which featured the letter H in purfilling just below the back button and the peg-box was always adorned with the most exquisitely engineered brass machines set on brass half plates that were impressed with the name "Hawkes & Son London" at the foot of each plate.
Were all the instruments made in England?
No. To meet the demand for the Professor and Concert models the majority were imported from Germany and France.
What sort of prices did Hawkes & Son sell the different models for?
From an advert believed to date from 1924 but possibly a few years earlier Hawkes & Son were listing the 4-string Professor instruments at £22, the 4-string Concert at £26 and the 4-string Panormo model a whole £10 more than the Concert at £36. For the three string versions of these same models the prices were £20, £24 and £32 respectively. The advert aptly proving that in England there was still some demand for three stringed instruments even at this late date.
I don't suppose you have any other adverts from Hawkes & Son?
Yes we do. An earlier more detailed advert lists the following 4-string instruments;
First grade Professor @ £11/11 (shillings)
Second grade Professor @ £9/9
First grade Concert @ £17/17
Second grade Concert @ £13/13 
Panormo @ £25/4
It really is a great shame that you don't know the year of the advert.
Yes it is - although because the advert still makes reference to "Her late Majesty the Queen" - we can deduce quite simply that it has to be after Jan 22nd 1901 - the date that Queen Victoria died.
Does the same advert list any 3-string instruments?
Yes the following are listed;
First grade Professor @ £10/10(shillings) 
Second grade Professor @ £8/8 
First grade Concert @ £16/16
Second grade Concert @ £12/12 
Panormo @ £23/2
So the 3-string Professor and Concert was a whole guinea (£1/1shilling) cheaper than the four string version.
Yes indeed - and it can be seen that the 3-string Panormo was two guineas cheaper than the four string version.
Did Hawkes & Son make other instruments besides the double basses?
Yes indeed they did. Besides violin family instruments they manufactured an immense range of wind instruments, accessories and sheet music which they sold right across the British Empire. In 1924 Hawkes & Son built a huge new factory complex in Deansbrook Road, Edgware which they named "Sonorous Works". From that year the old factory in Denman Street, Piccadilly Circus served as a repair shop. By 1927 it is recorded that Hawkes & Son employed approximately 250 staff at the new factory.
What is your source for this information?
The Boosey & Hawkes collection held at the Horniman Museum, London.
What sort of wind instruments did Hawkes & Son produce?
They made wooden flutes and piccolos, fifes, wooden clarinets, hunting horns, trombones, cornets, copper bugles, French horns, hunting horns, saxophones and kettle drums.
I guess that during the first part of the 20th century many of these instruments were very important to the military.
Yes indeed. During the 1st world war the British army ordered thousands of flutes, drums and military bugles from Hawkes & Son. At that time and indeed throughout the 19th century the flute and drum were used to synchronise and regulate the troops as they marched and the military bugle was the primary means of announcing scheduled and non scheduled events on a military installation, battlefield or ship.
In terms of violin family instruments do you have any info on who actually supplied instruments to Hawkes & Son?
The Dictionnaire Universel des Luthiers by René Vannes published by Les Amis de la Musique, Brüssel 1985 contains a very brief entry which fortunately confirms that some of Europe's finest makers and workshops produced and supplied their instruments to Hawkes & Son.
Does the Vannes identify any of the makers?
Yes the following are listed; A.Falisse of Brussels, G.Pedrazzini of Milan, H.Roth of Markneukirchen and F. Milton of Bedford.
What does the monumental two volume encyclopaedia by Carl Jalovec record under Hawkes and Hawkes & Son?
Quite bizarrely The Encyclopaedia of Violin-makers by Karl Jalovec (pub in Great Britain by Paul Hamlyn, London WC2 1968) contains even less information than the Vannes. There isn't a listing under William Henry Hawkes and under Hawkes & Son it only has a mere three and a half lines.
What about the weighty Violin Dictionary by William Henley? Surely that must have decent sized entries on both Hawkes and Hawkes & Son?
Well one would be quite right to think so - but even more bizarre than the über- brief Vannes and Jalovek entries the Universal Dictionary of Violin Makers by William Henley published by Amati Publishing Ltd, Brighton 1973 doesn't have any entry for either William Henry Hawkes or for Hawkes & Son at all!
For a person who undoubtedly had such a major influence on instrument development and musical life in general that does seem very odd indeed. Did you find anything more substantial in any other reference works?
Fortunately our reference library contains the volume An Index of Musical Wind Instrument Makers by Lyndesay G. Langwill first published by the author in 1960. This sixth edition published 1980. Under the name Hawkes the following entry is provided;
Hawkes: London. 1860-1930. A well known concern founded in 1860 and amalgamated in Boosey & Hawkes (q.v.) in 1930. Wm. Henry Hawkes, a Band Corporal in the Scots Guards, commenced in Cumberland Street, Pimlico in 1860 and he may have been 1st Cornet in Riviére's dance orch., in 1858. Hawkes & Co. were at Cumberland Street, Pimlico, 1860-62: at 33 Soho Square, 1862-76; the partners were Wm. Henry Hawkes and Jules Prudence Riviére. Riviére & Hawkes, 28 Leicester Square, 1875-84, when the partnership dissolved. Oliver H. only son of W.H.H., joined his father and Hawkes & Son continued at 28 Leicester Square, 1884-95: Denman Street, Piccadilly Circus, 1895-1930. Thereafter, Boosey & Hawkes Ltd., 295 Regent Street. Vide Rose, Talks, pp. 269-270. Mr Geoffrey Hawkes, Chairman of Boosey & Hawkes Ltd., (q.v) died 17 July 1961, aged 66.
Wow - thanks for sourcing all that really valuable information. Can you tell me something about this particular double bass?
It is very probable that this instrument is one of what Hawkes & Son described in their advertising as a first quality instrument. This is because the maple wood used to construct the back and ribs is particularly well flamed.
What about the quality of the spruce used to construct the table?
The spruce used to construct the table has a really nice fine and even straight grain.
Is this first quality theory backed up by any other features on the instrument?
Yes indeed. If you take a look at the purfilling just below the back button it finishes in a simple geometric loop which is a feature not seen on The Professor model double basses constructed from plainer materials.
Are the tuning machines original?
Yes. One cog does have very slight differences to the other three but it is still very typical of those manufactured by Hawkes & Son. This suggests that the instrument was originally built as a three string and then converted at a later date quite possibly in the Hawkes & Son repair shop.
Is this three string theory supported by any other features on the instrument?
Yes. There are signs of both bushing work and of the repositioning of the worm quarter-plates.
Does the instrument bear an original label?
Unfortunately there aren't any labels or inscriptions inside this instrument.
Have you upgraded the instrument at all?
Yes - internally the back has been completely secured by a new brace system, all cracks on the ribs have been washed out, glued and secured by studs and the table has had a new bass bar of the correct length and depth fitted.
What other upgrades have you made?
We have fitted a beautiful new slim-feel neck with flamed wood sourced from the Balkan mountains, a top quality ebony fingerboard that originated in Sri Lanka and a top quality bridge by Despiau of Gimont, France.
We have also gone to the trouble of fitting the legs of the bridge with super smooth running ebony adjusters that were precision manufactured in Germany and there is now a top quality brass endpin unit with steel pin that was made to our own design and specifications here in England.
What will I like about this Hawkes Professor?
This Hawkes Professor is a visually imposing instrument. With its violin outline, nicely raked upper shoulders and the outer linings to the ribs - the model is strong, grand and impressive.
Is there anything else that will really please me?
Yes as all ready mentioned the instrument is now in structurally A1 condition.
What about the set-up?
There is a set-up par-excellence that makes playing the bass a real pleasure.
What about the sound – that is much more important to me?
Simply huge - on top of which there are lush-dark tonal qualities.
I am an orchestral player / I am a jazz player.
Perfect. Whatever genre of music you are working on you'll absolutely love this instrument.
Final Summary
It is a well-known fact that the majority of Hawkes double basses had a very hard life - so to find this particular example in such a decent overall condition - is quite remarkable indeed. With its massive sound and full-tone this really is an attractive option for an upwardly mobile, budget-conscious orchestral professional. Fitted with a set of Thomastic Spirocore meds or softs - it really does produce the kind of juicy-groove sounds that you jazz guys & chicks are all after. In terms of investment potential - this fashionable piece of bass making history is sure to provide excellent dividends.