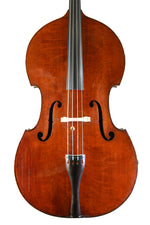 Instrument description
Jerome Thibouville-Lamy circa 1920 viol-shaped with flat back.
Wood
The table is made of an even-medium grained spruce. A particular characteristic of this table wood, and one that is extremely handsome, is a flame-like effect caused by the visibility of medullary rays rippling through the wood. This suggests that the wood was split at a lesser angle than that used for quarter-sawn timber. The back is made from maple that shows a strong vertical grain. There is little natural flaming. The ribs and scroll are also made of maple of minimal real figuration. What is visible on the back, ribs and scroll and looking every bit as though the wood has a stunning high-figuration is an effect known as a "simulated flame". During the first quarter of the twentieth century wood of a particularly plain nature was enhanced by a technique that involved the painting on of a flame-like marking to the wood before it was varnished.
Varnish
Original. A superb spirit based varnish of a translucent dark-redcurrant colour.
Machines
A new set of French style machines. Because this instrument was originally made as a three stringer and the peg box was incapable of accommodating an additional cog of a similar size to that of the originals The Contrabass Shoppe has fitted a really neat set of smaller-diameter cogs that reflect well the style of the originals.
Restoration and correctional work
Many instruments that emanate from France possess tables of a thickness that are incapable of vibrating properly. The sound produced by these instruments is characteristically thin and nasally. The French players of yesterday and perhaps to a degree still today lean towards this type of sound. In contrast the worldwide market demands as much tone and as much sound as is possible from an instrument. To this end this table of this instrument has been reduced from the totally incredulous figure of 15mm (in places) to a much more conventional thickness of around 9mm. The results speak clearly for themselves. In addition to this correctional work a new bass bar of the right length and depth has been fitted, there is a superb new neck and fingerboard and endpin unit, sound post and bridge have all been fitted. A crack to the back of the peg-box has been sorted out so that you'd never know it ever existed and the new set of machines has been fitted with the utmost of care.
Structural condition guarantee
A digital photograph of the inside table accompanies this instrument and provides complete evidence as to the extent of work necessary to place this instrument into the A1 structural condition that it is now offered. The photo also reveals the incredibly high standard of work that is demanded by The Contrabass Shoppe.
Sound
Big round and gutsy with plenty of projection and lots of colours.
Overall impression
Due to the original thickness of the table and the resultant "dead" sound we reckon that this instrument has hardly ever been played upon since it was new. Consequently it looks virtually as it did when it was made back in the 1920s. Really the varnish is quite mint. This is most definitely a beautifully presented instrument with a large quality sound. Fitted-up with an adjustable bridge and Thomastic tailpiece this is one gorgeous baby to play. Superb looks and superb sound that will most definitely appeal to all you jazzers out there.