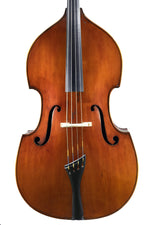 Three and a half grand for an all-wood bass! That I have to say is quite amazing value!
When you consider that to buy the materials alone before you even start making costs about two grand – you do have to admit that this instrument really is incredible value for money.
Is the quality of the materials decent?
Yes indeed. It is likely that the maple and spruce has come all the way from the rich high-forests of Bosnia & Herzegovina.
Is the quality of the making OK?
The thicknesses are a little on the heavy side but overall the quality of the making is fairly respectable.
The colour and quality of the varnish work looks pretty decent too.
Yes agreed. It does look good.
Will this instrument suit me?
The instrument has the potential to take you a long way on your musical journey. If you are on a fairly tight budget then this instrument will definitely impress.
What about the sound?
Well the sound could be bigger but what is particularly nice is the fact that it is very even across all the strings. For all you up and coming jazz players - particularly if you are going to do some recording - this is seriously good news.
Summary:
For the money this is impressive.