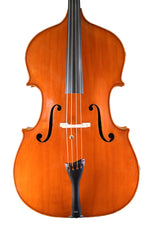 Tell me about Ronald Prentice?
Ron Prentice was born in 1932 in London. After an early playing career on bass guitar and double bass Ron opened a shop in Enfield, Middlesex where he made, restored instruments and sold accessories. Ron's first instruments were mainly viols - but when his work found particular favour with players in the London orchestras he began to make more modern instruments. Orders for new instruments - particularly cellos and double basses - began to flood in - so in order to enable him to concentrate on his making without disturbance Ron moved to Ash Priors, Nr Taunton, Somerset where he worked for most of his career. Ron retired from making in 1998.
Where did Ron study making?
Ron travelled over to Germany for approximately four years to study privately with the maker Karl Roy
Who was Karl Roy?
From 1960 Karl Roy (b-1933, d-2013) taught at the Mittenwald School of Violin Making. In 1972 he was appointed as director of the school – which was obviously a very prestigious position to be bestowed and to hold. From 1973 to 2008 Roy also taught in the USA, served as a judge at various violin making competitions, was an active member of the International Society of Violin & Bow Makers and wrote several publications including "Jakob Stainer; Leben und Werk des Tiroler Meisters 1617-1683" published by Verlag E Bochinsky, Frankfurt/M in 1986 (ISBN 3-923639-69-4), which he co-authored with Walter Senn.
How many basses did Ron make?
During the 1970s-80s Ron became recognised as a specialist bass maker and regularly had a two-year waiting list on orders. Ron is credited with a total output of 50 double basses that were constructed from excellent Sitka spruce and maple that he sourced in Germany and beautifully flamed sycamore that he sourced in both England and Scotland. All the instruments were made using an inside mould and finished with a variety of varnishes which were made to recipes originally used at Mittenwald by Carl Roy.
Were all of Ron's double basses made with a flat-back?
No - some were made with swell backs.
So Ron was a fairly prolific maker?
Yes - in the annals of more recent English bass making history Ron is a well recognised and respected maker.
I'd be interested to learn some more about Ron. Is there anything in print available?
Yes - Ron was featured in a well produced and highly informative book about professional violin makers in Britain. It was entitled "The Violin Makers - Portrait of a Living Craft" and was written by Mary Anne Alburger and first published in 1978 by Victor Gollancz Ltd, London (ISBN 0 575 02442 9). The book is particularly engrossing to read because the writing takes the form of actual interviews with the various makers, restorers and dealers.
In Alburger's chapter about Ron - is there anything that you find particularly interesting?
Yes - the paragraphs on Ron's bass playing days, his association with Karl Roy and his methods of varnishing are all really absorbing. However - if I had to pick out one thing - it would have to be his sentence regarding the pricing of his own instruments. This pricing would have been valid for the year 1977 or 78 when compilation of the book would have taken place prior to publishing in 1978. On page 111 Ron comments; "I charge about £920 plus VAT for a violin, £1000 for a viola, £1600 for a cello, and £2500 for an Italian-style double bass".
Wow - with the then rate of 8% VAT added to the price - Ron's instruments really were a lot of money at the time. Can you put the cost of one of his double basses into some sort of context for me?
Yes - Contrabass Director Tony Houska has the catalogue of a Phillips (now Bonhams) Musical Instrument sale that he attended on the 21st April 1977. There were four double basses in the auction. Buyers premium was not applicable at this sale so the prices shown are the hammer price.
Lot 212 An Italian Bass by Pierguiseppe Esposti, Cremona dated 1974 - fetched £550.

 

Lot 213 A Modern Chamber Bass - fetched £120.

 

Lot 214 A German Four-String Bass circa 1870 - fetched £200.

 

Lot 215 A Good Four-String Double Bass by Paul Claudot circa 1860 - fetched £620.
Do you have any more price references?
Yes - on the classified page at the back of the January 1976 "The Strad" magazine there are four double basses listed for sale as follows;
Riviere & Hawkes Double-Bass Concert 1889. £375 ono. 
Double Bass, three-quarter size. Lott or Fendt. Excellent condition. £1000 ono. 
Hawkes Concert D / Bass. Good sound. £550. 
Pollmann, three-quarter size, four string D/Bass 1972 model, £800.
Does Ron remember making this particular instrument?
Incredibly yes; "The bass you mention made in 1967 - does it have a 3cm square insert opposite the bass side F-hole nick – where there was a knot? If so it was made for a pro player called John Borthwick who used to work at 'The Talk of the Town'. If it is that one, I remember using it on some recording sessions to try it out before it was delivered."
Do you have any further info on John Borthwick?
At this point in time - it is a no. If any of our readership has any information on John Borthwick it would be great to hear from you.
Can you tell me briefly - what was "The Talk of the Town"?
The Talk of the Town was a nightclub that opened in 1958 at the London Hippodrome Leicester Square. The club featured an almost endless list of the most popular artists of the time including Shirley Bassey, Engleburt Humperdinck, Diana Ross & The Supremes, Dusty Springfield, Tom Jones, Frank Sinatra, Sammy Davis Jr, Matt Monro, Count Basie, Stevie Wonder, George Robey, Tony Bennett, Cleo Laine etc, etc. In 1983 the building was renovated and reopened as "The London Hippodrome" nightclub/restaurant by the nightclub tycoon Peter Stringfellow.
When the Hippodrome originally opened in 1900 it was a venue for circus and variety performance. Is that correct?
Yes indeed. Over the years the building has been used for many different purposes and events including circus performances, music hall, variety performances, ballet, musicals, award ceremonies, film premiers and parties and more recently as a casino and as a venue for Pokerstars Live.
Is the instrument labelled?
Yes. An original hand written label is positioned on the bass side back just above the central back brace. The label is written in capital letters and reads MADE BY RONALD PRENTICE. ENFIELD. MIDDLESEX 1967. The label also bears the maker's signature in the bottom left hand corner.
With the instrument rapidly approaching its first half century have you upgraded it at all?
Internally nothing was necessary apart from fit a new sound post. Externally we have fitted it with a beautiful slim-feel "D-neck" and revived a very faded pale varnish. We have also upgraded a pretty basic set of cogs with a superb Baker copy set that was made here in England and which complements the instrument perfectly.
What else will I like about this instrument?
There are many aspects that you will like and appreciate as follows:
The English model:

 

The violin outline with a flat back and upper angle break follow in the glorious tradition of mid 19th century English bass making.

 

The proportions:

 

The excellent proportions coupled with a narrow rib depth make this instrument an absolute delight to play.

 

The wood:

 

English sycamore at its best. Both the back and ribs are beautifully flamed and well matched.

 

The varnish:

 

The transparent orange varnish over a yellow ground is purposeful.
The fittings:

 

All the fittings are of top quality. There is an A1 fingerboard from Germany, a top quality Chevalets Despiau bridge from France and an endpin unit par excellence made entirely by hand here in the UK to our own specifications.
I see that the instrument also features a set of outside linings?
Yes. Outside lining are particularly useful in adding strength to the construction and robustness of an instrument. Indeed even though the instrument is - as we have mentioned previously - nearing its first half century (at January 2015) - it is totally crack free.
Wow that is impressive. Would you go as far to say that the instrument is in mint condition?
Yes indeed. Mint condition it is.
What about the sound?
The sound is full and rounded with just the right amount of punch and projection.
Will the instrument suit me?
If you are currently in the process of trying to get one of those coveted positions in an opera, symphony or chamber orchestra then the playability, good looks and sound of this instrument is certain to help you along very nicely indeed.
Can you provide a summary?
During the sixties and seventies Ron Prentice built up an excellent reputation for making good sounding basses of quality and even though his list price was on the hefty side for the period it certainly didn't diminish the demand for them from a large number and variety of players. Indeed many Prentice basses have now had the benefit of being used on a daily basis for nearly half a century. With a little skilful updating such as we have performed on this fine example from 1967 there is little doubt that this instrument is capable of easily seeing out a second fifty years of fine music making.
How about a final summary?
This is an instrument that looks good, feels good and plays equally as well. As such - this is an instrument that will appeal to a great many players. For those of you who have to borrow money from a bank manager, loan fund or family member we are confident that over time this named English instrument will provide a very healthy dividend.