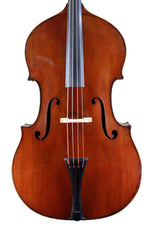 What a glorious looking French instrument this is.
Yes - this is one of those incredibly handsome violin outlined instruments with a flat back that displays a "secondary-button" carved immediately below the neck block button. Constructed throughout with timber of quality and with carving that shows good attention to detail this is an excellent early example of this model of Lamy instrument.
Can you tell me about the model?
Yes - with an outline and arching that are near perfect in symmetry the instrument looks every bit as if it were an enlarged Strad model violin.
Can you tell me about the secondary-button on the back please?
Yes - the secondary-button is a decorative feature that mimics the outline of a violin or cello back-button. Note the purfling line immediately below the secondary-button. It runs in a continuous arc just as you would see on a violin and as such adds to the violin-outline illusion.
Tell me about the quality of the wood?
The nicely figured timber used for the two-piece back shows a flaming that ascends slightly from the centre joint. The ribs and scroll are well matched with a flame that ascends slightly from the back to the front.
What about the table wood?
The spruce table shows a grain that is very, very narrow at the table-centre and fine to medium-fine across the rest of the table and edges.
Do you think that this quality of table wood could have been used to make several violin or cello fronts?
Yes - quite easily.
What about the purfling?
The purfling has been inlaid very precisely.
Can you tell me about the varnish?
Typically one finds "Lamy" instruments with a rich plum-red colour of varnish. In contrast this early example has a most attractive rich orange-red colouration that has been applied over a "ground" of yellow-ochre. The effect is visually stunning.
Does the instrument have a maker's label?
No. It does however bear a repairer's label on the central back-brace that reads 'Repaired by T. Carter Walker 1963'.
Do you have any info on Carter Walker?
Shoppe director Anthony Houska has a letter in his archive that was written by Tom Carter Walker to Raymond Elgar the author of three pioneering books on the double bass that he published in the early 1960's. The letter is dated 8th Jan 1965 and has the letterhead T. Carter Walker. Artistic Repairs to Violin, Cello & Double Bass – Bows Rehaired. Sendhurst Farm Cottage, London Road, A.3., Send, Woking, Surrey. Telephone : Ripley 2346.
Does Raymond Elgar mention Tom Carter Walker in any of his books?
On page 44 of Elgar's "Introduction To The Double Bass" which was published in 1960, Elgar writes 'Mr. T. Carter-Walker at Send is an expert repairer specialising with basses. He is descended from a long line of bass repairers, makes his bridges from exceptionally fine maple and makes brass machines.'
Are there any other labels or inscriptions?
On the outside of the bass-side top rib there are two partly obliterated names and the date 8-8-10 that have been carved into the wood.
I presume that the last two digits refer to the year 1910. Is that correct?
Yes - correct.
Why would somebody have done that?
This must have been done by a former owner or owners. Although it is a rather crude method of establishing ownership - one would have to admit that it is effective.
I guess rather like a tattoo - it is OK until you want to remove it.
Indeed. Just imagine doing the same thing on a violin!
Can you tell me a little about Jérôme Thibouville-Lamy?
Louis Emile Jérôme Thibouville (b-1833, d-1902) worked in Mirecourt and Paris and was an entrepreneur and business man. He became the sole proprietor of various factories at Mirecourt and was responsible for the gradual change in production methods that occurred from 1870 onwards. Machinery was introduced into the factories and instead of producing instruments made entirely by hand, production increasingly became machine assisted. Many of the bland "red-coloured" double basses that are generally termed or called "Lamy" emanate from this type of production line.
How interesting. Do you have any information on the J.T.L company?
The Brompton's Book of Violin and Bow Makers by John Dilworth published in 2012 by Usk Publishing (ISBN 978-0-9573499-0-2) records that in 1857 the Mircourt companies of Husson and Buthod amalgamated with Thibouville to become Husson-Buthod-Thibouville. In 1861 Thibouville married Marguerite Hyacinthe Lamy - a cousin of both Charles-Claude Husson and Charles Buthod - after which the company became known as Jérôme Thibouville-Lamy or J.T.L for short. In 1889 Alexander Alfred Acoulon joined the firm eventually rising to become head of the company from 1896-1908. In 1908 Acoulon was joined by Hugues Émile Blondelet and in 1913 his own son Alfred Etienne Acoulon. The company continued in France until 1968. In England it still survives as an instrument wholesaler and supplier to the luthier trade from premises in Bishop's Stortford, Hertfordshire.
What sort of quality of instrument did JTL manufacture?
Many different models and grades of instrument were made from the cheap student instrument to the high class workshop instrument. Each model was identified by the name of a celebrity-artist, a workman in the factory or simply a made-up name. The list of names is almost endless and include the following; Breton, Buthod, Geronimo Barnabetti, Geronimo Grandini, Le Claude, Le Clerc, Louis Fricot, Nicholas Duchéne, Salzard, Sarasate, Stentor, Thiery, Joseph Aubry, Barrel, Michael Ange Garini, Mansuy à Paris, Le Célébre Vosgien, Compagnon and Dulcis et Fortis. Grade names include the following; Médio Fino, Eleve, Maitre, Artiste and Virtuose. In addition instruments were frequently branded with the main J.T.L trade mark which was a lyra surrounded by the radiating lines of an aura below which were the letters J.T.L.
Have you done any work on the instrument?
Absolutely everything necessary has been done to put this instrument into a top playing order. The list of benefits includes the washing out, gluing and studding of all cracks to the table and ribs, regraduation of the table, fitment of a new bass bar, fitment of a soundpost-patch, half-edging and edging work, fitment of the original pegbox and scroll onto a new neck, fitment of the neck-block into the top block, re-shaping of the neck, fitment of a new fingerboard, bridge and soundpost, cleaning of the varnish followed by the touching in of the varnish etc.
What about the set-up?
The instrument sports a seriously fine set up which includes a new slim-feel "D" neck, a top quality fingerboard from Germany, a top quality Chevalets Despieu bridge from France, a top quality sound post and one of our über functional English pattern brass endpin units.
Phew - that was a lot of work?
Indeed it was - but the end result does speak for its self for the instrument is now in structurally A1 condition coupled with the fact that it sounds quite superb.
Tell me more about the sound?
The sound is full and rounded with just the right amount of punch and projection.
How about a summary?
Only a few years ago these sturdy instruments were plenty available. How times have changed. The excellent quality, first class looks and great sound means that they are eagerly snapped up by top jazz players, usually even quicker that most people can say Jérôme Thibouville-Lamy. In fact these instruments, particularly over the course of the last five years have consistently proved to be a most prudent financial investments for their owners.
How about a final summary
Put simply this is a fully secure instrument with a fully secure sound. The added advantage of a string length of a mere 104.9cm makes this instrument almost impossible to fault.
How about a final, final summary
If you are a jazz player or are currently in the process of trying to get one of those coveted positions in an opera, symphony or chamber orchestra then the playability, good looks and sound of this instrument is certain to help you along very nicely indeed. Whoever said that French instruments are ordinary, boring and sound nasal should definitely come and take a look and listen to this beautiful instrument.