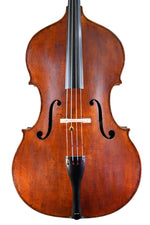 What a beautiful looking instrument this is.
Yes it is. The model and proportions are simply divine, the quality of wood used throughout is superb and the neatness of making is outstanding. As for the deep red-brown hues of the beautifully preserved oil varnish - well these are simply breathtaking.
What about the condition of the instrument?
Incredible is a good word. The back and front are absolutely mint. For a double bass – which as you all know is the most vulnerable of all musical instruments - to have survived in this sort of condition after more than one-point-five centuries of existence and use is nothing short of incredible.
So an instrument of divine quality and condition. Does the instrument bear a Lott label?
Unfortunately John Frederick Lott (b-1804, d-1870) rarely labelled or branded the instruments that he made. One of the reasons for this being that many of them were commissioned or made on the order or instruction of a dealer, supplier or shop who prior to selling them would insert their own label inside the instrument. Indeed this truly fine instrument bears the printed label of John Thomas Hart (b-1805, d-1874) and his son George Hart 1 (b-1839, d-1891) on the central back brace. On the first three lines it reads 'HART & SON, Manufacturers, 14 PRINCES STREET, LEICESTER SQUARE, LONDON.' and on the very lowest line 'DEALERS IN CREMONESE VIOLINS.'
Are there any other indications of provenance?
Yes. The instrument is branded HART'S twice in capital letters.
Where are the brands positioned?
The two small semicircular brands straddle the join line of the bottom ribs near to the top and bottom plates.
How legible are the brands?
The brand near to the back plate is clearly visible. The brand close to the top plate is less well preserved and fairly difficult to make out.
Is there anything that we can deduce from the Hart & Son label and brands?
According to The Brompton's Book of Violin and Bow Makers by John Dilworth that was published by Usk Publishing in 2012 (ISBN 978-0-9573499-0-2) – John Thomas Hart moved to 14 Princes Street in 1838.
Do you know in which year George Hart formally joined his dad in the business?
Unfortunately the date is not recorded in any of the reference works that we have within our library. If however we speculate that George Hart became a partner at the age of 15 that would provide us with the year 1854. On page 98 of the beautifully produced and authoritative book The British Violin published by the British Violin Making Association in 2000 (ISBN 0 953471 27) – it tells us that in 1879 the southern end of Wardour Street was extended to include Princes Street and that the Hart & Son shop was renumbered 28 Wardour Street.
Is it possible to narrow the date that this instrument was made down still further?
Yes indeed. We know that John Thomas Hart died five years earlier than the street name change of Princes Street so that would narrow the date to between 1854 and 1874.
Is it possible that after the death of John Hart his grandson acceded to the younger generation Hart & Son partnership?
Yes - in 1874 George Hart 11 (b-1860, d-1939) would have been aged 14 and certainly capable of working in the shop. It is also feasible that they continued to use the old label until the street name change in 1879.
Can you remind me what year Lott died?
Lott's death is recorded as being in the year 1870. This means that we can narrow the date that the instrument was made down even further to between 1854 and 1870.
Can you tell me a little about John Thomas Hart please?
Yes. John Thomas Hart was a maker, repairer, dealer, expert and connoisseur of violins. The volume entitled British Violin-Makers by the Reverend William Meredith Morris, published in London by Chatto & Windus in 1904 informs us that 'He did not make many instruments, but attained great reputation as a repairer and connoisseur.' The British Violin records 'Hart went on to establish one of the leading violin businesses of the 19th and early 20th centuries in Princes Street, Leicester Square.'
Interesting stuff. Do you have any more information on John Thomas Hart?
In 1875 one of the first really authoritative books on violin making and makers was published in London. The volume entitled "The Violin - Its Famous Makers And Their Imitators was written by George Hart 1 - the son of John Thomas Hart.
It sounds like George 1 had inherited his father's enthusiasm and passion for studying and dealing in violins?
Yes exactly. George bought and sold many private collections of instruments and became - just as his father had before him - widely recognised as a connoisseur in the field.
George should have his facts right about his dad. What does he say in his pioneering reference book?
"HART, John Thomas, born December 17th 1805, died January 1st 1874. He was articled to Samuel Gilkes in May 1820 of whom he learned the mechanical branch of his profession. He afterwards centred his attention upon the peculiar characteristics of the Cremona and Italian Violin-makers generally, and in a comparatively brief space of time obtained an extensive acquaintance in that direction. His unerring eye and powerful memory of instruments once brought under his notice secured for him the highest position among the connoisseurs of his time. Commencing business at a period when the desire to possess instruments by the famous Italian makers was becoming general among amateurs, and being peculiarly fortunate in securing an early reputation as a judge of them, he became the channel through which the greater part of the rare Italian works passed into England, and it has frequently been said that there are very few distinguished instruments in Europe with which he was unacquainted. Among the remarkable collections that he brought together may be mentioned that of the late Mr. James Goding, the remnant of which was dispersed by Messrs. Christie and Manson in 1856; the small but exquisite collection of Mr. Charles Plowden, consisting of four Violins of Stradivari and four of Guarneri, with other instruments of less merit, the whole of which again passed into Mr. Hart's possession upon the death of their owner; and, lastly, a large portion of the well-known collection of the late Mr. Joseph Gillott, sold by Christie and Manson shortly after the famous sale of pictures belonging to the same gentleman. This collection of Violins raised upwards of £4,000. To mention individually the gems comprised in this array of Cremona's handiwork would be a difficult task, but among them may be noticed the Guarnerius Violin known as the "King," which brought 700 guineas; the Stradivarius Viola, formerly Lord Macdonald's, which sold for 400 guineas; the beautiful Stradivarius Violin now in the possession of P.Roberts, Esq., &c."
The book was obviously written in the correct parlance of the day. It does seem rather old fashioned by today's standards.
Yes agreed. Also the method of writing is less academic than we demand today from a reference work on violins and their makers.
Do you know which makers were employed or supplied instruments for John Thomas Hart and his son and grandson?
John Thomas Hart is said to have employed many of the finest English and French makers of the time. It is known that he had a close working association with the highly esteemed violin maker and connoisseur Georges Chanot (b-1801, d-1883) of Paris and with J.B Vuillaume. Sadly the names of many of these makers have not been recorded. These are the ones that we can find.
1. William Valentine (d-ca1877) George Hart records – 'Made many Double-Basses for Mr Hart, which are highly valued.' Hildalgo Moya and Towry Piper in their book Violin Tone and Violin Makers published in London in 1916 by Chatto & Windus expand slightly as follows; 'Worked for many years for Hart. A good repairer. Chiefly known as a double bass maker.
2. Charles Harris 11. (b-1791, d-1851) worked for Hart for a brief period. The British Violin records – 'This must have been in 1827.' William Henley in his monumental - Universal Dictionary of Violin & Bow Makers (Amati Publishing Ltd 1973) writes; 'Workmanship superb and always full of interest.' And - 'Among British copyists of the Stradivarius and Amati outline and arching he stands out beyond them all.
3. William Voller (b-1854, d-1933), Charles Voller (b-1865, d-1949) and Alfred Voller (b-1856, d-1918). The British Violin records that the highly skilled Voller Brothers were employed by George Hart 11 in Wardour Street from around 1892 up to 1899.
4. Jacob Jan van de Geest (b-1899, d-ca1939). The Brompton's Book of Violin and Bow Makers records 'He worked for George Hart 11 in London from 1921-1938. Emigrated to Johannesburg 1939. Very fine workmanship on Stradivari & Guaneri models.'
What information is available about John Thomas Hart's association with John Frederick Lott Junior?
According to the semi-biographical novel - "The Violin Hunter" - by William Alexander Silverman (Published in 1957 by The John Day Company, N.Y - Library of Congress Catalogue Card Number 57-8238) about the remarkable Italian violin collector Louis Tarisio - when John Thomas Hart heard that Tarisio had a number of top quality Cremonese instruments for sale he rushed over to Paris to establish contact with Tarisio - "... at Vuillaume's place". With him he took Lott in order to act as an interpreter. The "amusing language barrier" meeting is told over thee and a half pages with the end result being described as 'Hart acquired a number of fine Cremonese violins, Vuillaume a good commission on the deal, and Tarisio made two British friends.'
Hmm - it doesn't exactly confirm that John Lott Junior made instruments for John Thomas Hart.
Affirmative. It does however establish that Hart and Lott knew each other well. Indeed the census of 1851 shows that Lott was already established at 60 Wardour Street - which as has already been mentioned - was only a short walk up the road from Hart in Princes Street.
How long did Lott remain located at 60 Wardour Street?
According to The British Violin he remained there until his death which they record as the 7th June 1870.
What other material do you have?
The Double Bassist No42 - Autumn 2007 features an article about an instrument by John Lott Junior - by Martin Lawrence and Thomas Martin. The instrument featured is remarkably similar to this one in a great many ways and is all the more of interest due to the fact that it too is branded HART'S in small capital letters just below the back button.
In the article - what do Lawrence and Martin say about John Thomas Hart?
Surprisingly little. In the two pages of text John Hart is only mentioned twice as follows:
"Conversely, Lott accompanied a number of the London dealers including Turner and Hart on buying expeditions to Paris".
"It was made for John Hart and carries his brand below the button".
In the article what do you think about the lack of background information on John Thomas Hart when the instrument was clearly made for him?
It does seem notable for its absence. The fact that nothing is mentioned about the input that John Thomas Hart would have had on an instrument made specifically for him would also seem to be a bit of an oversight.
What sort of input are you talking about?
If you were going to commission somebody to make an instrument for you - it would be prudent to tell them exactly what you wanted to achieve from that instrument. As it still is today - this would include discussions about the model, the arching, the internal work, the carving of the scroll, the type and quality of the varnish and finishing etc, etc. Before, during or after you have discussed all these aspects - it is most likely that a price for the instrument would be agreed and a contract drawn up.
That makes sense. Presumably if John Hart had himself received an order for a double bass he would have discussed the same sort of variables, specifications and requirements with his customer.
Yes. It would make good business sense for sure.
With regard to this double bass. Are there any noticeable differences in comparison to Lott's own production from the same period that would suggest the instrument was made to Hart's specifications?
There are a couple of very subtle differences. The ribs are very slightly deeper than one would normally expect and the stupendous silky looking varnish is oil based rather than a spirit.
What do the deeper ribs suggest?
The deeper ribs suggest that the player who had ordered the instrument from Hart & Son was above average in stature and/or that he was attempting to create an instrument with an above average volume and tonal quality.
Do you think that the slightly deeper rib experiment worked?
Yes indeed. The extra-large internal space acts like super sub-woofer on a luxury-brand hi-fi system. Hold on to the china plates that hang on your wall!
What does the use of oil varnish suggest?
Oil varnish takes much longer to dry between coats than spirit varnish. Its use on this instrument suggests that the customer wanted the very best and was prepared to pay for the extra attention to the finish.
Does the very best theory hold true throughout the instrument?
Yes indeed. The quality of wood that has been used throughout is superb, the general proportions are simply majestic, the arching is a creation of the most sublime beauty, the positioning and cut of the F's are unquestionably divine and the incredibly neat, strong and bold carving of the scroll show experience in abundance.
Seeing as you have just mentioned the F's. How similar are the stats in comparison to the Ex Royal Artillery John Frederick Lott Jnr double bass that you sold and that you now have listed in your archive pages?
On both instruments the length of the f's as measured across the wings is 23.0cm exactly. In terms of the distance between the upper lobs there is a negligible difference of 3mm. This instrument measuring 15.4cm and the R.A Lott 15.7cm.
Are there any other identical or near identical measurements?
The length of back (LOB) on this instrument is 114.3cm and on the R.A Lott is 114.0cm.
The 3mm difference is very small but I may as well ask. Can you account for the difference at all?
Yes. Our boffins at The Contrabass Shoppe think that the back of The Ex-R.A Lott has experienced a greater degree of shrinkage over the years.
These stats are absolutely amazing. What do they suggest?
They suggest that Lott used the same mould and f-hole templates to make both instruments.
Can you tell me some more about John Frederick Lott Junior please?
At around the age of 14 - after learning the basic skills of violin making from his father - John Frederick Lott Jnr. (b-1804, d-1870) became apprenticed at the shop of Richard Davis (formerly the shop of John Norris and Robert Barnes) where he worked alongside his older brother - George Frederick Lott. There are two different accounts as to how long Lott Jnr. stayed with Davis. The first account puts it at four years while the second puts it at only a year. Whichever case - it does appear that in order to make instruments Lott Jnr. obtained wood and tools from Dodd - where his father worked - and sold the finished instruments through Dodd and Metlzer until about 1823. Disillusioned with his way of life it is documented in the semi-biographical novel - "Jack of all Trades" - written in 1858 by his friend the violin connoisseur Charles Read that he gave up instrument making for " ... twenty years of colourful travel". John Lott Jnr. finally returned to London in the early 1840's.In the census of 1851 he is recorded as being a musical instrument maker at 60 Wardour Street where he developed the art of copying old master instruments to a very high level.
Is that all the information on Lott that you are going to provide in your review? It does seem quite brief for such an important English maker. Can you tell me why?
The life and work of John Frederick Lott Jnr. is already well document in most violin dictionaries, reference works on English violins and in various specialist magazines.
I completely understand. It must have taken you a considerable amount of time to find out what you have already written. If I did want to do some more research on J.F.Lott Jnr - what reference works would you recommend I take a look at?
1. The British Violin - published by the British Violin Making Association in 2000 (ISBN 0 953471 27).
2. Edward Withers Ltd - 230 Years of Violin Craft in Soho by Adam Whone. Published by Mill Hill Publications, London 1996 (ISBN 0 9529264 0 7).
3. The Universal Dictionary of Violin & Bow Makers by William Henley. Published by Amati Publishing Ltd 1973.
4. Jack of All Trades by Charles Reade. Published jointly with Autobiography Of A Thief under the title "Cream". First published by Trubner & Co, 60 Paternoster Row, London 1858.
5. The Violin Family - and its Makers in the British Isles by Brian W. Harvey. Published by Oxford University Press 1995. (ISBN 0 19 816259
6. Lotts Of Value by John Dilworth. Featured in The Strad October 1988. Published by Orpheus Publications Ltd.
7. Bass Behaviour by Martin Lawrence and Thomas Martin. Featured in The Strad January 2000. Published by Orpheus Publications Ltd.
8. John Lott Junior by Martin Lawrence and Thomas Martin. Featured in The Double Bassist No42 - Autumn 2007. Published by Newsquest Specialist Media Ltd.
Does the instrument sound as good as it looks?
Yes it does. We are pleased to say that the instrument comes complete with the glorious full-bodied quality of sound that is associated with fine English instruments.
How about a final summary.
This instrument has a great many wonderful qualities that should score highly on the wanted-list of any prospective player, collector or investor. The timber used in its construction is beautifully figured, the proportions are perfect for every type of player, the instrument is structurally in exceptional condition and the quality of sound that it produces is full and tonally-rich. With named mid-nineteenth century London made instruments of this sort of quality and in this sort of condition now in demand more than at any other period in history - we firmly believe that this instrument will gain its new owner a principal position in a major city and prove in time to be a most wonderful investment.
How about a final point to ponder?
Every bass player wants to own and play on a John Frederick Lott Jnr bass because this really is the Stradivari of the double bass world yet unbelievably its value is only about 1% of a golden period Strad!