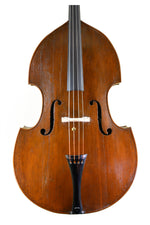 Where an earth did you find this instrument?
This exceedingly rare instrument was purchased in a severely distressed condition from a perpetual traveller during November 1995.
Just how badly distressed was it?
Even though the instrument was cocooned in an excessively heavy, wooden, "coffin-type" travel case - the instrument was literally falling to pieces when one lifted it up by hand.
Tell me more?
The instrument was still in its original three string form with wooden barrels that still had thick gut strings wrapped around them. In brief the damage consisted of;
Open cracks that had never before seen glue.
Heavily corroded screws and nails aplenty that held the table and back down to the ribs and blocks.
Some worm damage to the back.
White emulsion paint damage to the treble-side lower table and centre rib.
A heavily mutilated scroll and peg box covered in a thick red paint.
It must have been lying around for years?
Yes - we estimate that it must have been lying around neglected and unplayed for between 60 to 100 years - quite possibly more.
What were your main thoughts at the time?
The instrument amounted to little more than a couple of boxes of kindling wood – so the biggest concern - besides the fairly substantial asking price - was whether the instrument was salvageable.
A total rebuild type of project then?
Yes - it was definitely a long term - colossal challenge type project. Not only would a reconstruction project - "A total rebuild." - of such immense proportions involve many, many long hours of dedicated restoration work, but in-depth thought, analysis and careful consideration with regard the optimum approach would be necessary throughout proceedings.
When did you start the project?
The project finally got underway in mid June 1999. Over the next nine and a half months in excess of 800 hours of almost undivided attention was committed to this one instrument.
That must have set you back a few bob then?
Yes in total the bill came to 24K (1K = One thousand GB pounds) - a UK, if not a world record price for a bass restoration.
What was done to the instrument?
Every repair technique known plus many more were utilised to return this long lost treasure back to its former glory.
Why didn't you keep it as a three string?
The overall condition of the instrument wasn't quite museum quality – so by converting – it would appeal to a much wider market.
The work went well then?
Yes - the most pleasing aspect about good restoration work - is that it is difficult to see exactly what has been done. If a restorer has accomplished his job well - comments such as "What have you done to it" or "Gosh, it's in absolutely fabulous condition" - are really satisfying to hear.
Did you get those cogs made?
Yes – the set of cogs were made for the instrument by Peter Barnaby of Louth in Lincolnshire. The "Gull-wing" design was inspired by two Classical 17th century designs that were found in a museum catalogue. Each cog and worm was made entirely by hand and is a work of art in its own right. Collectively they complement the instrument perfectly.
So what did we believe the instrument to be?
The external features of this instrument were to point strongly to the makers Giovanni and Francesco Grancino of Milan and suggest that this was an instrument of well over 300 years in age. Yes - more than three centuries old. Confirmation was to be provided when the table was removed revealing all the original methods of construction. Of most significant value was the fact that the top and bottom blocks, the four corner blocks, the linings, centre brace and bass bar were all completely original.
To find all the original features in an instrument of 300 years of age must be incredible.
Yes – it is highly unusual to find a Classical instrument that hasn't already been changed or messed about. To closely inspect and examine the internal fundamentals of an exceedingly rare Brothers Grancino double bass was indeed a rare opportunity.
Have you documented any of your research?
Yes – we managed to photograph and document both the external and internal features of the instrument. In addition the many exciting and innovative restoration techniques utilised throughout the project have been photographed and documented.
It does look great. What about the sound?
For an instrument that has undergone the equivalent of a heart bypass operation and brain surgery at the same time - the sound is surprisingly mature and rounded. There is a wonderful touch of clarity and brightness to the sound and an absolute evenness over the entire tonal range. Bowing feels incredibly articulate – with every movement producing an instant tonal response.
Do you think I'll fall in love with the instrument?
Yes for sure - it's definitely an instrument to die for. If you are a soloist, principal player in a chamber ensemble, collector or investor - then this instrument has extra-special charm.
I'd love to have a go on it?
No problem. Please contact us for an appointment.
Summary
This is an instrument of undoubted visual and tonal distinction, As far as we are aware it is also the only Brother's Grancino instrument in existence.