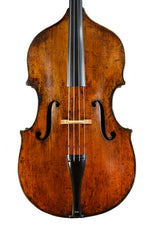 How do you know that this double bass once belonged to Domenico Dragonetti?
On page 72 and 73 of the pioneering book "Introduction To The Double Bass" by Raymond Elgar (Published by the author in 1960.) there is a short history and full-frontal photograph of the instrument.
What does the book say?
Reproduced from page 72 of the book. 'The double bass illustrated opposite is one of the finest in the world. It was reputed to have been made by Gennaro Gagliano (fl.c.1730–1780 Naples) by Claude Hobday, a great player and recognised authority on basses. This instrument was brought from Italy by Domenico Dragonetti (b-1763, d-1846) who, returning to London, stopped at Vienna to call on Beethoven, with whom he was most friendly and was made very welcome. He enquired if any interesting bass parts had been written recently. Unfortunately not, was the answer, but a cello sonata was just completed. Dragonetti thereupon played it straight away on this bass in such a masterly manner that Beethoven could not refrain from embracing him.'
Wow - that really is an amazing bit of history.
Yes indeed. In fact this Dragonetti - Beethoven encounter took place in 1799 and is famous.
How do you know that?
The anecdote was first recorded by the author Alexander Wheelock Thayer (b-1817, d-1897) in his three-volume biography of Ludwig van Beethoven that was published between 1866 and 1879. Thayer's work was the first scholarly work on Beethoven and set a benchmark for modern standards of accurate biographical research. After many revised editions the work is still regarded as a standard work on the composer.
Has the anecdote been reproduced more recently?
Yes, it is reproduced on page 179 of the scholarly work Domenico Dragonetti in England (1794 - 1846) by Fiona Palmer (published by Clarendon Press - Oxford. ISBN 0-19-816591-9). It is also reproduced on page 247 of the scholarly publication A New History of the Double Bass by Paul Brun (published by Paul Brun Productions, ISBN 2-9514461-0-1).
Does the anecdote provide any more detail of the meeting?
Yes, very much so. We learn that it was Dragonetti himself who first recounted the meeting to Samuel Appleby, Esq. (Dragonetti's legal advisor) of Brighton and that the cello sonata that was performed was in fact the Sonata Op.5 No2 in G minor, which consists of two movements and was composed in 1796. We also learn that it was Beethoven himself who played the piano part!!!
How incredible. Does the Elgar book say what Dragonetti did with the instrument?
Yes - there is a second paragraph as follows; 'The instrument passed to Dragonetti's sub-principal at the Opera House, James Howell, who died in 1879. It next passed to another owner and thence to the late Mr Hobday and is now in the possession of a talented lady amateur player. The bass is covered with a fine Italian golden oil varnish that has never since been matched and is truly magnificent to behold. The bass has a modelled or swell back.'
Is the bass featured in any other publications?
Yes. In Raymond Elgar's third book entitled Looking At The Double Bass (Published by the author in 1967) it is featured over no less than four pages. Page 80 is a full frontal view. Page 81 is a full back view. Page 82 shows the rear of the peg box which is "open" and page 83 shows the treble side of the scroll and pegbox.
Do you have any more information on Howell?
In Raymond Elgar's second book entitled More About The Double Bass (Published by the author in 1963) there is a short biography on Howell which records that he was born in Plymouth in 1811 and died in 1879. In 1825 he became a pupil at the Royal Academy of Music where he studied under Anfossi. Later he became a professor at the Academy. After Dragonetti's death in 1846 he succeeded him as the principal bass at the Theatre. Reproduced from page 66 - 67 of the book; 'He was then the most important bass player in Britain for he was an unrivalled orchestral performer and had full knowledge of the traditional method of accompanying recitative passages, making his services at the Royal Italian Opera almost indispensable. His services were sought after by many who had previously engaged Dragonetti. He was often at the Theatre Royal, Drury Lane, where he played (with Pilet and Hancock) Corelli's Trio for two cellos and bass and received suitable publicity on the Theatre bills.'
It crossed my mind that Elgar doesn't provide the name of the theatre that Dragonetti and Howell played at. Why do you think that is?
The name of the theatre changed names in accordance with the sex of the accending monarch. Under George I it was called the King's Theatre. When Queen Victoria ascended to the throne in 1837 it was renamed Her Majesty's Theatre.
Do you have any more information on Hobday?
Arthur Claude Hobday (b-1872, d-1954) was one of the great players of the 20th century and a notable collector of double basses. He played in the leading orchestras of the time and was a founder member of Beecham's Symphony Orchestra, the Royal Philharmonic Orchestra and the BBC Symphony Orchestra. He was also a member of the London Symphony Orchestra, the Royal English Opera House and the Glasgow Choral Union and is recognized as being the first double bassist to record a large amount of chamber music. As well as the Gennaro Gagliano he owned basses by Montagnana, Gasparo da Salo and Vincenzo Panormo and in 1898 he acquired the exalted ex-Bottesini 1716 Carlo Antonio Testore.
A liberal account of Hobday's fascinating life and career is reported by Tully Potter in an article entitled "Hobday's heyday" on pages 22 - 24 of the Double Bassist magazine (Orpheus Publications) number 18 from Autumn 2001.
Is the Gennaro Gagliano mentioned in the article?
Yes, it is mentioned in no less than three paragraphs. In the second paragraph it talks about his fine recordings of the "Trout", his one-to-a-part recording of the "Eine kleine Nachtmusic" for HMV and discs of the "Beethoven Septet" and "Schubert Octet" and due to the beauty of the sound proffers -'No doubt it is the Gagliano that can be heard on Hobday's recordings'.
Do you have any other interesting facts on Hobday?
Yes. After reading this review a genealogist friend of ours decided to conducted some research into Claude Hobday and discovered that there is an entry for his father in the 1881 census (under the civil parish of Faversham). Of significant interest is the fact that for his profession Charles D. Hobday is cited as a musical instrument dealer. This one suspects must surely have been a positive influence on his son's passion for the collecting of the very finest and rarest of Italian double basses. Indeed one could easily imagine that there was some expertise and financial involvement too. Our thanks to Edward G. Hellewell for his excellent research.
Do you know who the "talented lady amateur owner" was?
In late 2019, Shoppe Director Tony Houska uncovered three amazing letters that a legendary London double bass player called Don Cheeseman wrote to Raymond Elgar in May and June 1960. In the first letter which is dated 11th May 1960, Cheeseman informs Elgar of the Gennaro Gagliano's entire history and writes ´I may be able to get permission for you to photograph a wonderful Gen. Gagliano double bass which once belonged to Dragonetti and who on his return from Venice with this very instrument called upon Beethoven and played with him at his house - a cello sonata - Op.5 I believe. Will tell you more when we meet. This instrument is the most glorious sounding bass I have ever heard and should certainly be included in your book'. In the second letter, Cheeseman introduces Elgar to the current owner who we learn is a Miss Beatrix Batten of Chislehurst, Kent. After Batten's death Cheeseman purchased the Gagliano from her estate - but more about that later. Incredibly, a letter dated 16th June 1960 from Batten to Elgar was also uncovered. In the letter Elgar is invited as follows, "Certainly come and take more photos when you want". Indeed, we know that Elgar did visit again because two fabulous photos of Batten holding her pride & joy outside her house have also been uncovered.
Wow, that's a great find. Do you have any more information on Batten?
It turns out that Beatrix Marguerite Fox Batten (b-1886, d-1968) or "Trixie" as she was known, was a heroine in WW1 and WW2 for her unpaid work with the British Red Cross. In recognition of her self-less service she received a British Red Cross War Medal in 1938, an MBE in 1918, an OBE in 1936 and in 1946 the ultimate accolade a CBE. So, a truly amazing person. In terms of her double bass playing she was a member of the amateur orchestra at Glyndebourne and later the Bromley Symphony Orchestra. Indeed, she was well known for motoring around the village in her Morris Minor estate car with the instrument tied to the roof. Following her death in 1968 a memorial bench was erected on Chislehurst Common.
Wow, it sounds as though Ms Batten was a most remarkable woman. If I wanted to find out more about her, what would you suggest?
Further information on Beatrix Batten and on Chislehurst can be found in the book Secret Chislehurst by Joanna Friel & Adam Swaine, Amberley Publishing Ltd 2015. ISBN: 1445645696, 978144564598.
So, in the last paragraph you mentioned that Don Cheeseman bought the Gagliano from the estate of Beatrix Batten but how do you know that?
At the top left of Batten`s letter to Elgar, Elgar has annotated it in black pen as follows; "Owned (Batten) the Gennaro Gagliano D. Bass. Don Cheeseman bought it when she died."
Do you have any information on Don Cheeseman?
Charles Henry (known as Don) Cheeseman (b-1899, d-19??) was a principal player in the Royal Philharmonic Orchestra. In addition to the Ex-Dragonetti Gennaro Gagliano he owned the Ex-Dragonetti Brothers Amati double bass of 1629 that is featured on page 56 of Introduction to the Double Bass and the über-well documented 1747 Domenico Montagnana double bass that is featured on pages 96-97 of Introduction to the Double Bass and on pages 100-101 of Looking at the Double Bass.
Who was the next owner of the Gagliano after Cheeseman? 
Cheeseman sold the Gagliano onto another legendary English double bass player called Ernest Ineson. Ineson was a pupil of Claude Hobday. He was a former principal and founder member of Sir Thomas Beecham's Royal Philharmonic Orchestra in 1946. Ineson was also a member of the Brighton Philharmonic and was a professor at the Royal Military School of Music, Kneller Hall. After Ineson's death the instrument, along with a number of other very fine basses passed to his daughter Jane Ineson and by default to his son-in-law Thomas Martin (b-1940) the omnipresent Cincinnati born player-teacher-maker-dealer, writer of articles and bass-authority. 
What about the current owner?
The current owner retired in October 2019 having given 32 years of service and dedication to the arts during his tenure as sub-principal of the orchestra of the Royal Opera House, Covent Garden. In 2013 he was presented ROH Long Service Medal. Prior to this he was a member of the Royal Philharmonic Orchestra for thirteen years (1984-87), the BBC Northern Symphony Orchestra and the BBC Concert Orchestra. He has also written a number of solo study books and arranged orchestral repertoire books for double bass that are highly regarded by both teachers and students. The curent owner acquired the Gagliano in April 1997 directly from Martin.
So, if I'm not mistaken we now have an almost complete ownership link right back to Dragonetti.
Correct. There is only one former owner that we need to find in order to establish a direct link to the great man himself.
Can you just remind me of the list of former owners?
Dragonetti, Howell, Unknown, Hobday, Batten, Cheeseman, Ineson, Martin, Current owner.
So only nine owners including Dragonetti. For an instrument that is over

 
250 years in age
, that really is remarkable. Do you have any ideas regarding the unknown owner?
There is a pretty good theory that it was Howell's pupil namely Adolphus Charles White (b-1830, d-1902) who is the missing link. When Howell died in 1879 it was A.C White that succeeded him as the principal bass at Her Majesty's Theatre (Opera) and in his position at all the leading musical festivals of the time including Leeds, Birmingham, the Handle and at the Three-Choirs. Within a short period of time White was in demand with the prestigious Philharmonic Society, the Orchestral Union and with the flamboyant French composer and conductor Louis Antoine Jullien with whom he visited America in 1853. As such, White rapidly became the most esteemed and famous player of the period and over his career amassed a considerable fortune. When he died his estate included his main residence which was a large house in Parkhill Road Hampstead, London, eight houses in Canterbury and a double bass by William Forster.
Do you have a little more information on White?
White is credited with writing and arranging several works for the double bass including a duet for two double basses. He is also credited with writing church music, songs, carols and piano pieces. In 1887 White gave a lecture to the Musical Association about the double bass which was reproduced in his tutor for three-string double bass, entitled ´The Double Bass` which was published by Novello, Ewer & Co around 1890 as part of their ´Music Primers and Educational Series`. In 1892, the same publishing company brought out White`s ´Appendix to the Double Bass` which reflected the transition to the system of playing the double bass with four stings albeit with a tuning of G, D, GG, DD - the first string being G, the second D, the third a G which sounded an octave below the first string and the fourth a D which sounded an octave below the second string.
That's really interesting - but do you have any more clues that White owned the Gagliano?
In 1880 White became a professor of the double bass at the Royal Academy of Music and in 1877 he was conferred an honorary membership (RAM Hons). In 1883/4 he was awarded the honour of becoming the first professor of the double bass at the Royal College of Music. Of significance, is the fact that one of White's best pupils was none other than Claude Hobday whom he taught at the RCM from 1888-1892. When White died in 1902 it was Hobday that took over his post at the college which he was to hold for the next 44 years. Hobday's own star pupils including Adrian Beers, Francis Bains and as mentioned previously, another of the former owners of the Gagliano namely Ernest Ineson.
Do you have a summary on your theory that A. C. White was the missing link between Howell and Hobday?
As White was the star pupil of Howell and successor to his status as the leading bass player of the day, it is not unreasonable to speculate that the Gagliano would have changed hands in that direction. Indeed, accounts show that White was in a very comfortable financial position to purchase it. Similarly, as Hobday was the star pupil of White and successor to his playing and teaching mantle, it is not unreasonable to speculate that the Gagliano changed hands in that direction. Although we currently do not have any documents that prove this theory, one would have to agree that A.C. White is the most obvious link between the two.
Going back to the books by Raymond Elgar. Do you have any idea what happened to his original research material, photographs, transcripts, letters and correspondence?
Yes - The Contrabass Shoppe Ltd purchased all the material that was related to the three books directly from his son.
Gosh - that has to be an invaluable resource in your line of business.
It certainly is and in terms of this particular instance on the reverse of the original photograph of this instrument Raymond Elgar has written in blue pen the name of the instrument, its measurements in inches, a brief description and of particular interest 'S. Allen on bridge'. Indeed, the current owner of the instrument has informed me that not only did he make and fit a bridge for the instrument all the current internal restoration work was performed by Allen.
Can you tell me who S. Allen was?
Samuel Allen (b-1838, d-1914) is best associated with the fact that he became the workshop manager at W.E. Hill & Sons of Bond Street - the world-renowned firm of instrument makers, dealers and restorers. The reference work W. E. Hill & Sons (1880 – 1992) - A Tribute by Richard Sadler (Published in 1996 by Ealing Strings Ltd – ISBN 0 9504357 2 4) records that as a bow maker he was regarded by Retford and his fellow craftsmen at the Hill workshop as an "exceptional craftsman".
Does the book confirm that he went into bass making?
Yes - Allen 'branched out into the making of violins - and double basses!' after he left Hills to set up business on his own around 1890.
So this remarkable and indeed legendary craftsman worked on the Gagliano then?
Yep - appears so.
Is there any other form of documentation to support the authenticity of this instrument?
Yes - there is a 14-page tree-ring analysis report by John C. Topham dated 8th June 2018. The analysis was carried out on two tree-ring sequences representing the bass and treble sides of the front. The sequences were then compared with established reference chronologies and date sequences.
This sounds like a weighty document. Can you provide a summary of the results?
The results show that the most significant cross-matching dates obtained for the youngest rings measured on the bass and treble were AD1754 and AD1759 respectively. Due to the fact that violin wood needs to be seasoned for a number of years before it can be used the latest date is unlikely to be the felling date of the tree. The chapter sub-headed "discussion" concludes that at least 5 year should be added to this date.
So in what year does Topham conclude that this instrument was made?
Topham writes "In this case a date of not earlier than AD1764 for the manufacture of the front is possible".
Does this all tie in well with Gennaro Gagliano's making career?
Yes indeed it does. Gennaro Gagliano's making career is recorded as flourishing between circa 1730-1780.
Is the instrument in top playing order?
The instrument is in good order. Having said that we do believe that the playability of the instrument could be improved by the fitment of a new neck, fingerboard, bridge and set-up.
Why haven't you done this work?
The instrument is being sold on a commission basis with instructions from the current owner to find a new home for it in the same condition that he has been playing on it for the past 21 years as a member of The Royal Opera House, Covent Garden.
I understand. The fitment of a new neck and set-up wouldn't break the bank anyway. How about a final summary?
The ownership of this rare and exceptional instrument can be traced right back to Domenico Dragonetti  - the legendary mid-18th to mid-19th century double bass virtuoso who bought it over to the UK directly from Italy. The recent discovery of several important letters coupled with a variety of scholarly publications undisputedly corroborate the anecdote that on his way over to London, Dragonetti stopped by at Beethoven's house in Vienna in 1799 and used this very same instrument to perform Beethoven's most recently published cello sonata - the Sonata Op.5, No2 with Beethoven accompanying him on the piano. The same letters, along with several amazing photographs also confirm that over the past quarter of a millennium, this magnificent instrument has been owned, played and coveted by a short-string of eminent players, nearly all of whom have been principal players of some of the UK`s greatest orchestras. If all that wasn't enough, the provenance of the instrument is well documented in no less than two of the pioneering publications about the double bass by Raymond Elgar and more recently a dendrochronology report provides a conclusive date match to the making career of Gennaro Gagliano.
How about a final, final summary?
This really is a very desirable instrument for any player or investor. After Dragonetti's famous Gasparo da Salo of 1590, Bottesini's famous Carlo Antonio Testore of 1716 and the über well-documented Domenico Montagnana of circa 1747 this double bass by Gennaro Gagliano circa 1764 - the very one that Dragonetti played at Beethoven's house in 1799, is arguably the next most famous double bass in existence.