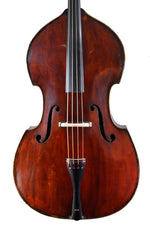 Description:
This is a nicely presented viol shaped instrument from the later quarter of the twentieth century. Proportionally - it has slightly larger measurements than one would expect from an instrument of this type - which we believe makes it ideal for use in a symphony orchestra.
How do you know that this instrument was made in Mittenwald?
The plumb-red varnish over a yellow ground is most typical of the Mittenwald school. In addition the viol-shaped model with its distinctive bulbous contours at the upper-block area (neck-rib join) are also typical of the area.
Can you tell me where Mittenwald is?
Mittenwald is located at the foot of the Bavarian Alps in the very south of Germany. Between the end of the 15th and the 17th century Mittenwald prospered as it lay directly on the lower trade route between Augsberg and Venice.
Isn't Mittenwald famed for its violin making?
Yes it is. Mathias Klotz (1653-1743) returned to Mittenwald in circa 1685 and can be considered the founder of violin making in Mittenwald. He ran a large workshop in which he trained his three sons as well as many other violin makers from the area. Today the town still has a violin making school and there is a museum
devoted to the evolution of stringed instruments and to old Mittenwald.
Have you done anything to the instrument at all?
Yes we have fully upgraded the instrument to modern day concert standards. In brief we've set the instrument up with a new neck, fingerboard, bridge and post and the peg box is now adorned with a stunning set of new English machines set on brass half plates. Internally improvements have been made to the
acoustics by means of judicious regraduation work and the replacement of the original bass bar.
Phew - all in all that was quite a bit of work then?
Yes indeed it was. But in our opinion it has been worth all the effort - for the instrument now sounds absolutely fantastic. There is plenty of volume, the tone is of considerable maturity and the new neck feels like a million dollars.
Summary:
This really is a very decent instrument that has come straight from the Mittenwald school of making. The model, the wood used throughout, the gorgeous - red-brown spirit varnish over a yellow ground and of course the type and quality of sound all shout out that typical Mittenwald feel of honesty and integrity. Should you be looking to enter into the orchestral profession on a 10-20K budget then this instrument could be exactly what you are looking for.