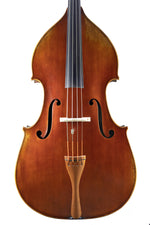 Wow - what a great looking bass. Is it old?
No unfortunately the instrument isn't old - but what must be fooling you is the fine varnish that has been skilfully applied to give a patina of age that is so desirable by both musicians and connoisseurs alike.
So this is imitation-old varnish?
Yes - that's right. The instrument is the model L'Ancienne or antique model and the marks and wear that you may see on an older instrument have been skilfully reproduced.
Where was the instrument developed?
It has been developed over several years by the well-renowned American Company - Ifshin Violins of Berkeley, California in collaboration with master European luthiers.
Tell me more?
All Jay Haide instruments are completely hand carved and graduated from quality seasoned spruce and flamed-maple and have a tone quality and workmanship that is normally found in instruments costing many times more.
What about the model?
The model is a modern French (Quenoil) with sloping upper shoulders, a full-width lower bout and a well proportioned swell back.
What about the sound?
The sound of this instrument really is as good as it looks. The tone is one of fullness and there is a responsiveness that will absolutely delight both orchestral players and jazzers.
Will I be interested in this instrument?
The instrument has been designed with the advanced student - semi-professional in mind but quite honestly if you're on a budget then this instrument represents unbeatable value for money.
Final summary:
The Contrabass Shoppe thoroughly recommends this instrument because it is well built, has gorgeous looks, plays and sounds like a dream and is priced way, way too low.