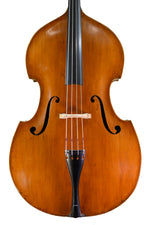 Instrument:
One of approximately 15 instruments that Briggs made. Viol shaped with flat back and upper angle break. Nicely flamed two-piece back with well-matched rib wood. Table of fine to medium-fine grained spruce. Original machine heads. Varnish of a light golden brown over a yellow ground.
Signature:
The instrument is signed in black ink on the upper back (below the angle break) bass side - Made by James William Briggs, Wakefield 1888. No4
Brand:
The instrument is branded on the bottom ribs - either side of centre join below the top-plate saddle (bottom nut);
J.W. BRIGGS (bass side rib)
WAKEFIELD (treble side rib)
Size:
With a LOB measurement of 114.0cm - this instrument is a true 4/4 size.
With a lower rib depth of 24.0cm (including both plates) - these can be described as quite exceptional. From the lower corner blocks the rib depth reduces to 23.6cm at the angle break on the back.
With a string length of only 105.2cm this is a very manageable instrument to play.
Provenance:
Formerly - the property of The University of York. A full front view and a full side view are pictured in the magnificent and authoritative BVMA (British Violin Making Association) publication: Violin Making in Scotland 1750-1950 by David Rattray (Custodian of the instrument collection at The Royal Academy of Music, London.). The Book was launched on the 5th August 2006 at the Edinburgh Festival where it coincided with the opening of the Violin Making in Scotland 1750-1950 exhibition.
Restoration:
Includes new neck, new bass bar, half edging and edging work, two patches to upper bass bar area, supporting patch to post area, replacement centre, upper and lower back braces, replacement back centre joint studs, stud work to all cracks, full set up including new fingerboard, top grade Chevalts Despiau bridge with fitted aluminium adjusters, top quality English end-pin unit and compensated tail piece.
Performance:
The whole instrument vibrates well when bowed. The sound is huge. The sound is deep, dark and powerful.
Desirability:
This is a rare opportunity to acquire a truly magnificent example of Brigg's work. This is a rare opportunity to acquire an instrument that is fully documented in an authoritative new publication.
This is rare opportunity to acquire a visually impressive and tonally magnificent orchestral instrument.
This is without question an investment quality instrument that should produce healthy dividends both in terms of securing a top position in a major symphony orchestra and in terms of capital growth.