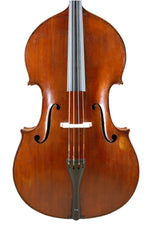 Would you say that in terms of French bass making Paul Claudot is a pretty big name?
Yes indeed. Most bass players have heard of the name and recognise his position as being one of the better French bass makers.
Would you say that this instrument is synonymous with his reputation?
Yes it certainly is. Claudot made both viol shaped instruments and those on a violin outline. This particular instrument is one of the more sought after " Grand Violin Modéles " with a flat back and proportions so exact that when viewed from a distance it looks every bit like a large Strad model violin.
Tell me more.
Both the model and workmanship exude strength in a bold-regal type of way. The F-holes are placed in exactly the right place, the corners are a picture of elegance and the scroll is neat and precisely carved.
Does the instrument bear the makers label or brand?
No. There are no internal labels or brands. The instrument does however have the stylized Paul Claudot name brand located in the customary position on the back button.
Have you done much work on the instrument?
The instrument has been fully restored into absolutely A1 condition.
In brief what did the programme of work consist of?
Starting with the front. Remove front, clean, reset and stud four cracks. Fit and finish eight half-edging patches and four sections of edging work. Remove old bass bar and replace with new. Refit front.
What about the back?
Remove back and align centre joint. Clean, reset and protect all cracks. Remove central brace and replace with a narrower brace. Fit new lower brace. Refit back.
What about the ribs?
Remove old top block and replace with new. Clean, reset and reinforce all crack with studs and patches. Replace the lining on the back-facing edge of the bass-side lower rib.
What about the neck?
Remove old neck. Graft scroll onto new neck, set and glue in new neck and finish to shape with new fingerboard and top-nut. Fill in one worm-bracket recess and readjust position of complete set.
What about the finishing work?
Replace small sections of purfling to the front and back. Clean the whole instrument. Touch in the varnish where necessary. Varnish the upper and lower neck. Polish the whole instrument. Fully set the instrument up.
Ouch - that was a considerable amount of work.
Yes. Shall we say that to put it in to the exceptional structural condition that it is now involved rather more work that we originally anticipated. Our thanks go to self-employed restorer Jeroen Bruynooghe for his exceptionally fine work.
What do reference works have to say about Paul Claudot?
The Brompton's Book of Violin and Bow Makers by John Dilworth published in 2012 by Usk Publishing (ISBN 978-0-9573499-0-2) records that Paul Claudot (b-1805, d-1888) was the son and pupil of Augustin Claudot and that he was born in Mirecourt. The entry continues by stating that he was a pupil of Husson in Paris, and that he died in Paris.
Does Dilworth make any mention of Paul Claudot's double basses?
The entry states that although Claudot's violins are "unremarkable" his double basses are branded Paul Claudot in italics and that they are "much sort-after".
What does Raymond Elgar have to say on Paul Claudot in his pioneering reference work Looking At The Double Bass that he published himself in 1967?
The entry confirms Dilworth's dates and places of birth and death. The entry continues with much praise for Claudot's double basses as follows 'Basses are well made, fine wood and good varnish, orange-red colour. Branded under the button with his name.'
Does Elgar include any pictures of Paul Claudot's instruments in his book?
Yes there is a black and white image of a violin outline Paul Claudot that is pictured on page 143.
Do you know of any other reference works that contain pictures of Paul Claudot basses?
The Double Bassist magazine No 14 (Autumn 2000) published by Orpheus Publications Ltd contains an article entitled "French Gem" that was written by Stefan Krattenmacher which features a delightful chamber size instrument in the ownership of Franco-Swiss bass virtuoso and composer Richard Dubugnon. The instrument is viol shaped and has a flat back.
I notice that the number 99 is branded above the Paul Claudot brand on the back button. Do you know anything about that?
According to Raymond Elgar the large number brand was used by the Parisian maker and restorer Claude Tournier (b-1904, d-after 1925). His entry records that his grandfather was the maker Joseph Alexis Tournier (b-1842, d-after 1925) and continues 'Noted for good workmanship and considerable knowledge of bass instruments. All good basses passing through their hands are numbered on the bridge and button in about ½ inch figures.'
How does the instrument sound?
The sound is beautifully clean, projecting and even across all four strings. For jazz players in particular there is a really satisfying growl on the E and A stings.
OK. Time for a summary.
Paul Claudot's reputation as a master craftsman is definitely upheld in this instrument. This is a nice example in structurally superb condition.