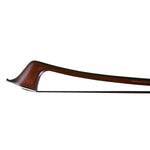 Wow - a double bass bow by the legend that is Bernard Millant.
Yes indeed. It is a pretty rare occasion to find a Bernard Millant violin, viola or cello bow for sale - so to find a Bernard Millant double bass bow on the market is incredibly rare.
Why don't they come up for sale very often?
Well - its simply because the players who were fortunate enough to acquire one of the "limited" number that he made treasure their beauty and playing qualities so much that they just don't want to part with them. Any others that may find their way on to the market are immediately and eagerly snapped up by collectors, connoisseurs and investors alike.
So the high demand and value placed on these bows is really due to the exalted reputation that Monsieur Millant has earned for himself over the length of his career and because he didn't actually make that many bows?
Yes - correct. Perhaps a better word to use rather than "earned" - would be "crafted".
Before you tell me about this stunning looking bass bow - can you tell me briefly more about the man himself?
Unfortunately in a short review such as this - it will never be possible to do justice to the high esteem placed on Monsieur Millant - for which we offer our apologies. Perhaps however a good place to start would be to mention and applaud the years of hard work, study and dedication that has culminated in the publication of the sumptuously produced four volume reference work with text in French, English and German - simply and succinctly entitled 'L'Archet' (Published L'Archet Editions 2000. ISBN : 2-9515569-0-X). The work - written in collaboration with fellow French archetier, bow restorer and uncontested expert Jean-François Raffin - has become the new standard reference work on French bows and their makers.
What does the chapter on Monsieur Millant contain?
In volume III - there are two pages of biographical text and a page of "Caractéristiques Generals" in each language. These are followed by six pages of full colour photos of his work. The photos are in both actual-size and in an expanded format - to show the important details such as brand stamps and various frog and button views. The quality of the photography is stunning.
What does the book record regarding notable dates?
Bernard Georges Louis Millant was born in Paris on 13th May 1929. 
1942. At only13 years of age - he made his first violin.
1946-48. Served an apprenticeship with the violin maker Amedée Dieudonné.
Served an apprenticeship with the Morizot brothers. This was to prove a profound influence on his future bow making career.
1949. Employed by Rudié of New York.
Worked with Jacques Français.
1950. Set up on his own at No 56 Rue de Rome, Paris.
Received valuable guidance on the appraisal of bows from Rembert Wurlitzer.
954. He was awarded two certificates of honour in Liége, Belgium. One was for a quartet of instruments, the other for a quartet of bows.
1959. He was awarded a gold medal in the bow section of the Ascoli Piceno, Italy competition.
1960-70. An important decade in terms of demand for his restoration work, orders for bows and request for appraisals.
1967. He received the Bronze Medal of Merit for Craftsmanship (section not identified) in Liége, Belgium.
1968. He was conferred the title of expert to the "Commissaires Priseurs de la Seine".
1969. He received the Gold Medal of Merit for Craftsmanship (bow section) in Liége, Belgium.
Several assistants were taken on to help with the growing restoration business. From 1972 - 1989 he employed Jean-François Raffin. 
1973. He was conferred "Expert près de la Cour d'Apppel de Paris" (Judicial Appraiser to the High Court and the Court of Appeal in Paris).
1988. He was conferred the "Grand Prix de la Création" by the City of Paris.
No date. He was conferred the title of "Chevalier de l'ordre des arts et des Lettres" (Knight of the Order of Arts and Letters).
No date. He was conferred the title of "Chevalier de l'ordre National du Mérite" (Knight of the National Order of Merit).
1989. He sold the business to Loïc and Verena Le Canu.
If that's just an abbreviated listing - he's obviously a pretty amazing man. What does the book record in terms of production?
Unfortunately the book doesn't provide an output listing. Quite probably this is due to the modesty of the man. In place - what it does state is that his production was "limited" due to his instrument and restoration commitments.
What style are the bows made in?
In general - the heads are inspired by the work of Domenique Peccatte [1810-1874]. They are quite square (sometimes referred to as "hatchet-shaped") - well proportioned and visually powerful. At the frog end the bottom facets of the handle are often recessed in the style of W.E. Hill & Sons. This prevents the frog moving out of line with the head. Some bows - especially those made for exhibition were made in gold & tortoiseshell or ivory & gold. Some bows made in the style if Hill incorporate the Fleur de Lys in the frog.
What did he brand his bows?
From 1950-1956: "BERNARD MILLANT A PARIS"
From 1956: "BERNARD MILLANT . PARIS" 
Certain "workshop" bows only in ebony and silver: "MILLANT A PARIS"
Exposition bows: "EXPOSITION 19 - -"
Model Pascal - which was a slightly shorter viola bow with frog shifted toward the button: "MODÈLE PASCAL"
Year of manufacture: Some bows are stamped with the year in which they were made. The stamp is located on the bottom facet at the very end of the handle. Not all bows bear the year stamp.
How is this bass bow branded?
It is branded "BERNARD MILLANT . PARIS" in two places. One brand is on the normal side of the handle - the other is intelligently positioned where it will receive the least amount of wear - on the obverse side of the stick - at the very end of the handle. As is consistent with the rest of Millant's output - both brands face away from the frog (i.e. readable from the top of the stick looking down towards the heal of the frog).
Tell me about the bow.
This is an ebony and silver mounted bow. The stick is round. The frog has a rounded heel and is decorated with "Parisian-eyes". The button is made from one-piece silver and has a single collar. The heel plate is held with three pins. The button is held with three pins. The underslide is made of silver and is held with two pins.
The face is made from ivory.
Tell me about the quality of the stick.
Pernambuco of the most stupendous quality has been used to make this bow. The grains are straight and medium to long in length. The structure is of a particularly high density and blemish (less desirable natural occurrences) free. The colour is dark brownish-red.
Tell me about the quality of making - especially the bow head.
The head of this bow is very masculine. It oozes great strength and power in both its proportions and poise while still retaining elegance, grace and refinement. The precise flowing lines and chamfers show a bold, confident maker at the peak of his career.
So making and materials at the very highest level. Does the bow play as good as it looks?
In a word - yes. This is a bow that feels and plays well beyond your highest expectations and wildest dreams. When you first pick it up - you just know that it means business. At 142gms in weight - with a full silver lapping - this is the perfect tool to produces a massive, full-toned "orchestral" sound. The wonderfully strong - yet flexible stick makes playing Beethoven, Brahms, Bruckner and Mahler symphonies seem quite effortless. When required - the bow responds equally well to spiccato and generally more subtle styles of playing.
Have you had any player feed back?
Yes. The words "Incredible, incredible, incredible" just about cover this question.
What date is the bow approximately?
The bow most likely dates from around 1970. As mentioned earlier the button is made with a single collar. L'Archet - on the "Caractéristiques Generals" page 514 - confirms "Button: Two equal collars in the first period, generally one round collar after 1965".
Do you know how many bass bows Monsieur Millant made?
A mutual colleague put the question to Monsieur Millant who replied that he remembered making about six bass bows after 1960. Some were made for a client in Montreal, Canada. He remembered well that the client was very "persistent".
Any guesses who that client may have been?
Yes. Thomas Martin was living and working in Montreal between 1964 and1971. Mr Martin was good enough to confirm that he had two bows made for him in that period using old, extra-special quality wood that he had purchased from Rosario Forget - an elderly French-Canadian maker based in the same city. Mr Martin admitted his persistence in wanting the bows made from Monsieur Millant - "I did keep after him 'till he made them I admit".
Is this bow one of the ones that Mr Martin commissioned?
No - but it would appear to have been made for that part of the world as it was acquired by Robertson & Sons Violin Shop in Albuquerque, New Mexico. The bow was sold on to a young American player who used it for many years.
Did you acquire it directly from the American player?
Yes. It had found its way back to Europe while he was living and working in Spain.
So this bow and Mr Martin's two make three. Does the Christopher Brown Book - Discovering Bows For The Double Bass - have any examples of Monsieur Millant's work in it?
Yes. On page 197 of Discovering Bows For The Double Bass (Library Edition ISBN-0-9642895-0-4 published 1994 by Beaux Arts Editions.) there is an example that is dated 1963 which is made from "parasitic" pernambuco. This is pernambuco that displays pronounced ring markings along part or its entire length. In the right sort of light these markings in the wood look absolutely stunning.
What does Christopher Brown say about the bow?
He writes; "The example shown here is one of only a few bass bows Bernard Millant made. It has superb playing qualities and is made from choice wood".
Can you tell me about the overall condition of this Millant bass bow?
Yes. In our opinion the overall condition of the bow is "good". The rating can so be described because there are are some signs of usage to the handle, frog and button. On the handle - the brand in the normal position has lost some of its legibility and the top chamfers show a negligible amount of wear. On the frog some very minor chips to the ebony and two minor nose fractures have required filling. On the button the collar has become worn and is in part missing.
Does any of this minor sort of wear alter the playing characteristic of the bow at all?
No - not at all. In actual fact - they more often than not suggest that the bow has been selected, cherished and used regularly because it is a bow of first choice. If we were to make the assumption that the bow has been used professionally for over 40years - then the overall condition of the bow really is very impressive indeed.
Would you credit the good condition of the stick to the very high density of the pernambuco?
Yes. The quality of wood used to make this bow - is truly exceptional.
Do you have a final summary?
This is certainly a master bow from a master maker. If you are a player wanting the best of the best - then this Millant bow should definitely be at the top of your list. If you are perhaps an investor or collector wanting to lay something down - rather like a fine wine - then this Millant bow is bound to shine like a "jewel in a crown".
Any final, final words?
What an incredible bow this is. To the incredible man that is Monsieur Millant - we salute you.